English Language Test For A Master's Degree
If you're applying for an English-taught Master's but English is not your first language, you will find universities will ask for proof of your English proficiency skills. This can be done through several different English language tests that are widely recognised by institutions across the world.
This blog will give you an introduction to each test and you can read more about each of the tests.
So which is the right test for you?
IELTS, TOEFL, PTA or CAE?
There are some differences between them that may influence your decision;
Speaking – CAE involves another candidate and an examiner at the same time, while in the others you either have to speak into a mic or with an examiner.
Accents – All the tests will involve English speakers with a variety of accents, but TOEFL will most likely all be from the USA and Canada, while the others will have a variety of native-English-speaking countries.
Formats – All tests have the same format which tests your ability in four different skill sets. PTE actually has 3 sections, with speaking and writing in the same section but still measured separately.
Length – CAE's C1 and C2 tests are about 4 hours long, making them the longest exams in the group. PTE is the shortest at around 2 hours and 45 minutes long.
Availability – Each test can be taken at thousands of test centres in many countries around the world. PTE is the most flexible test, as it is offered almost every day of the year in test centres or at home. TOEFL can repeat once every 12 days while others you can repeat the next day.
Certificate Longevity – CAE is the best for the longevity of the certificate, which lasts forever. The others only last 2 years from the date of your exam.
All of the tests are widely accepted at universities across the world, some more than others. If you're unsure which exam to take, you can ask your prospective institution which test(s) they accept. If there is more than one accepted test, you can try sample papers to see which style suits you.
Minimum Test Score
Typically, the minimum score you need to achieve on an English language test is between half or ¾. For higher degrees of literacy or postgraduate degrees, you'll need a much higher score. Please note that there is not a standard score requirement, the precise (or range) requirement differs from university to university.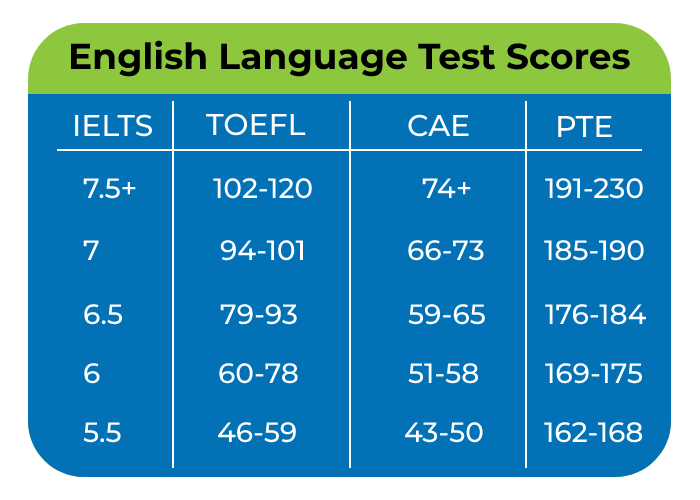 In some cases, if you do not meet the required scores, some universities will run an intensive English language course to bring you up to the right level. The courses can run anywhere from 2 weeks to half a year and you will have to pay a fee.
Exam Preparations
It is important to prepare thoroughly for whichever exam you choose to take. There are certain strategies and techniques that are key to understanding how each test works, for example, which sections (or questions) you should aim to do first or how long you should spend in each section/question. In addition, you will need to be familiar with the types of questions, text, recording and how it is marked.
There are plenty of private tutors or classes you can choose to help you prepare for the test. This can be a good way to test yourself in a place with people on a similar level to yours.
If you're learning English in the UK, be sure to research the tutors and classes before registering, as you should find tutors with a DELTA (Diploma in English Language Teaching for Adults) or CELTA (Certificate in Teaching English to Speakers of Other Languages) qualification, and classes accredited by the British Council.
Here are some tips to help you self-study once you know which test to take:
To find out if you may need to take an English Language Test, view our quick blog below.
Exam Tips
Make sure you know the exam format – pay attention to which skills are tested in each section.
Use the internet – there are hundreds of resources online to help you. While not all are suitable for your style, it can be a good way to find methods and techniques to give you an edge.
Practice exams – On each of the websites, you can find some tests you can practice. These are usually exams used in the past so you can have a complete idea of the exam and the level of difficulty you'll expect to encounter. You can also buy practice test books designed by the exam writers, although these can be quite expensive.
Immerse yourself in the English language – This can come in different forms. You can listen to audio recordings (podcasts, music), videos (movies, TV shows, lectures), read (news, journals, books) and speak, which you can find multiple gathering groups on places such as Meetup or on group chat similar to Discord, Facebook and others.
The best way to practice is to use the language on a daily basis. You can practice writing by writing a personal blog on what interests you or what you did on a specific day. You can use multiple online tools to help you get the correct spelling and grammar (e.g. Grammarly).
For basic translations, Google Translate is a good way to get the target sentence you want, but do keep in mind that it's not one you should use constantly as the algorithm doesn't always translate well.
If you manage to achieve the minimum required score for your chosen course, you will have to keep in mind that studying for a postgraduate degree has its challenges and you should continue to improve your English throughout your course in varying methods; from your friend group to online forums/groups.
Disabilities
If you have any disabilities, you should contact the company or the test centre before booking a test as they will have to make sure they can accommodate your special needs. You can find more information on their website.
Found your perfect postgraduate course and require funding help?
Begin your funding process with us now, or speak to a member of our customer support team at borrowers@lendwise.com or call us at +44 (0) 20 3890 7270.
9.2%* Representative APR (fixed). Credit is subject to status. Only those over 18 can apply. T&Cs apply.
*This figure was correct as of 29 June 2023
---
CAE
,
Cambridge Assessment English
,
English Language Test
,
IELTS
,
International English Language Testing System
,
Pearson Test Of English
,
Postgraduate students
,
Professional qualifications
,
PTE
,
Test Of English As A Foreign Language
,
TOEFL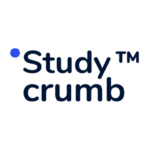 StudyCrumb