A Postgraduate Guide To Cambridge Assessment English (CAE) Certificates
Cambridge Assessment English (CAE) administers two English tests aimed at international students applying for English-taught Masters. This blog will focus on C1 Advanced and C2 Proficiency.
What are the Cambridge English Certificates?
The exams by Cambridge English Certificates are designed for all non-native English speakers to prove their skills at different levels. There are 5 stages (in order);
A2 Key – the basic-level qualification with proof of your ability to use English to communicate in simple situations.
B1 Preliminary – qualification with proof that you have mastered the basics of English and now have practical language skills for everyday use.
B2 First – qualification with proof that you have the language skills to live and work independently in an English-speaking country or study courses taught in English.
C1 Advanced – qualification with proof that you have a high-level achievement in learning in English.
C2 Professional – qualification with proof that you have mastered English to an exceptional level, proves you can communicate with the fluency and sophistication of a highly competent English speaker.
As a non-native English speaker, you do not have to start with the A2 key qualifications if you have some English skills but you can if you want to work your way up the qualification list as shows your willingness to learn and improve.
C1 Advanced and C2 Proficiency are both designed for non-native English speakers to prove their levels of English proficiency, and the certificates are accepted by almost all UK universities for postgraduate courses.
The two tests are different, C1 Advanced is targeted at the C1 level of the Common European Framework of Reference for Languages (CEFR), while C2 Proficiency targets the C2 level.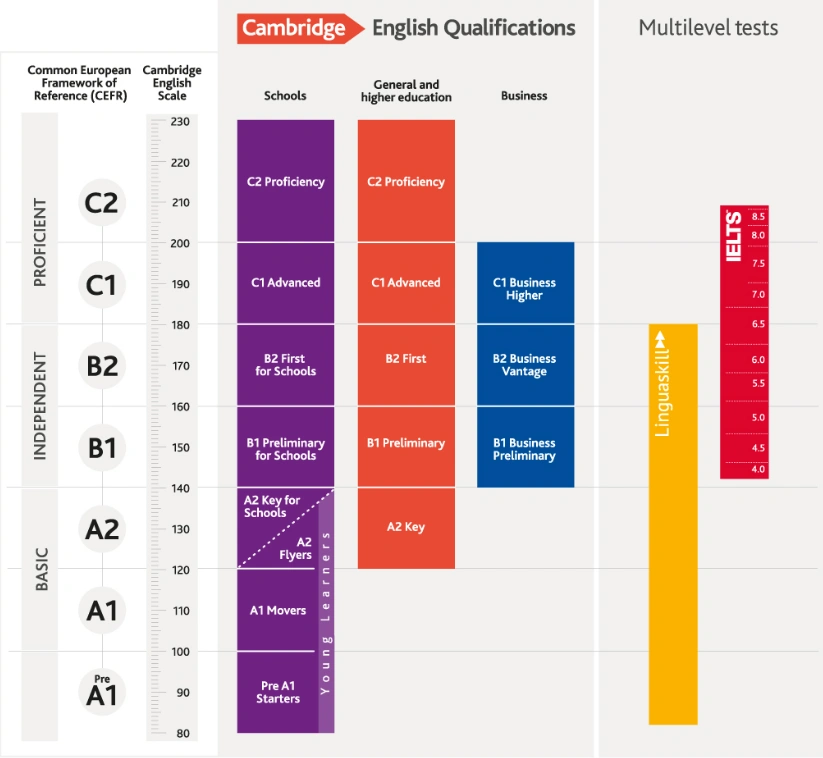 How do the C1 Advanced and C2 Proficiency work?
Both versions will cover the same skills and format. The main difference between both exams is the difficulty of the content. You can expect more complex questions and text in C2 compared to C1. However, as both C1 and C2 are high-level qualifications, either will be accepted as proof of English proficiency by most universities. Both C1 and C2 are about 4 hours long.
The four sections of both exams are broken down into the following:
Reading – Should take 90 minutes to complete. This section involves answering a range of different types of questions using various pieces of text.
C1 has 8 parts with 56 questions, and C2 has 7 parts with 53 questions.
Writing – You'll have 90 minutes to complete. You'll have to write two essays, and the nature of the writing depends on the level of the exam you take. Usually, it involves summarising and evaluating or expressing an opinion on a certain topic.
Both C1 and C2 have 2 parts to this section.
Listening – You'll have 40 minutes to complete. You'll be listening to a variation of audio recordings and answering questions based on what you've heard.
Both C1 and C2 have 4 parts with 30 questions.
Speaking – You'll have 15 minutes to complete. Uniquely to CAE, this part involves another candidate. You'll be speaking to each other and the examiner to complete a number of parts.
C1 has 4 parts and C2 has 3 parts.
The speaking aspect of the test will either be held a few days before or after the rest of the test. You can view C1 Advanced and the C2 Proficiency exam format to familiarise yourself with the process.
What grade do you need?
CAE uses their own grading system which sits alongside the CEFR (image above). C1 Advanced and C2 Proficiency have different grading scales to highlight the difficulty and qualification level.
For C1 Advanced, you will score between 180 to 210. For C2 Proficiency, you will score between 200 to 230. It is best to achieve at least a Grade B (image below) to meet any university requirements.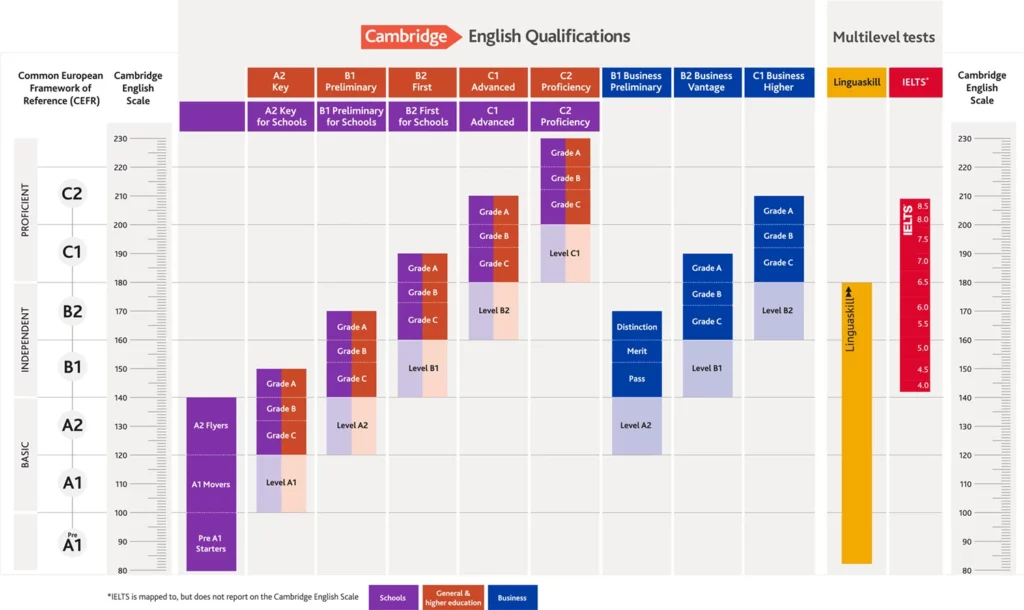 Who accepts CAE qualifications and where to take the test?
You can view which institutions accept C1 and C2 qualifications using their recognition database.
Many universities may still use the old names Cambridge English: Advanced (CAE) or Cambridge English: Proficiency (CPE) when describing their English language requirements, but the exams still use the same scale (image above) as before.
Unlike IELTS, TOEFL and PTE, the CAE qualifications do not have an expiry date, although most universities will require tests to have been taken in the past two years.
There are over 2800 centres in 130 countries across the world. You can use their test centre locater to find the nearest centre to you.
The price for the C1 Advanced and C2 Proficiency can vary depending on the test centre you attend, usually starting from £150. The C2 however is slightly more expensive than the C1 Advanced.
If you have any disabilities, you should contact Cambridge Assessment English or the test centre before booking a test as they will have to make sure they can accommodate your special needs. You can find more information on their website.
Are you thinking about pursuing a master's at a top UK university? Make your dream come true by seizing this opportunity to either take your career to the next level or tick off a personal interest. *Apply online and we'll support you on your path to success.
*Credit is subject to status and loan approval is not guaranteed. Over 18's only. Terms and conditions apply.

Confused or need clarification on certain aspects? Speak to a member of our customer support team at borrowers@lendwise.com or call us at +44 (0) 20 3890 7270.
---