Why invest in Lendwise loans?
Earn interest at a competitive rate
With bank savings account interest rates as low as they currently are, lending to Lendwise Borrowers aims to yield positive competitive interest earnings.
Enhanced earnings potential
A relevant post graduate degree or professional qualification augments the earnings potential of Lendwise Borrowers and thus repayment capability.
Social impact investment
The new generation and the new generation economy is based on knowledge. Lending for the purpose of education is ethical and socially responsible.
Lendwise credit assessment
Prior to a loan request reaching you as a Lender, all prospective borrowers undergo a credit assessment to reduce the risk of repayment failure. Learn more about our Credit evaluation process.
Diversified risk
By lending to a range of individuals in different study fields and universities graduating over a number of years you can diversify your lending portfolio and reduce risk. Read more information on How to diversify your risk.
AutoLend & loan filters
Use our AutoLend and loan filters to create a lending portfolio that matches your personal lending criteria and investment objectives.
How do I start lending?
Set up a Lendwise Account in 4 steps and start earning!
Open your IFISA or Classic account

Fund your Lendwise Account

Build your Loan Portfolio

Receive Capital and Interest Repayments
Start lending
Choose an account type that works for you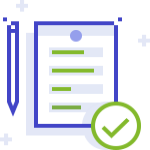 Lendwise ISA Account
The tax-free way to power your impact investing in our postgraduate student loans.
Get started with a minimum deposit or transfer from your existing ISA provider of £1000.
More about ISAs
Classic Account
The original Lendwise account offering attractive rates of interest from impact investing in our postgraduate student loans.
Get started with a minimum deposit of £1000. No limits on the amount of money that can be invested but any income earnt will be taxable at your prevailing tax rate.
Find out more
We strongly advise that you read our Key Investor Information and Tips on Diversification pages.
Frequently asked questions