How To Improve Your Time Management During Your Master's
Many students believe achieving academic success requires sacrificing their personal life – surely you need to devote 100% of your time to master something, right? However, this is a misconception that is widespread and affects thousands of students and their mental health. The truth is you can achieve academic success when balanced with a healthy schedule and time management skills.
Noting important dates
At the beginning of each term, it's a good idea to make a list of all the key dates and deadlines you have coming up and start preparations for the dates in advance. This will assist you by avoiding any last-minute assignment marathons and identifying which periods will be a high or lower-intensity week.
Decide your work schedule in advance
Once you know the most important dates in your term, you can figure out which days you can work without much disruption to your academic studies. If you're doing a hard science (or similar) degree, you'll most likely follow a 9-5 schedule. But on the opposite side of the spectrum, with a humanities or similar degree, you will most likely have fewer contact hours but more independent study at home.
Don't cancel your plans
The best way to balance your work and academic life is to keep up a social life. By socialising in person, you will be doing something other than productivity – improving your mental health by eliminating fatigue and procrastination.
Instead, block out a schedule for your job and your master's work and create set times for any social activities. Whether these occur or not, you may still be able to use the time for something else, unless you have a deadline due the next very day.
Doing everything at once
The beginning of the term can be a great motivation to experience many things, from joining a debate team or joining a sports club. In reality, it's possible to have dipped your fingers in too many extra-curricular activities. Instead, aim to pick out a couple of activities that you are more interested in.
But don't forget to balance your schedule. If you dedicate too much time to your activities, you may slack during your master's or work which will negatively impact the rest of your year. Balancing a good time management schedule keeps you happy.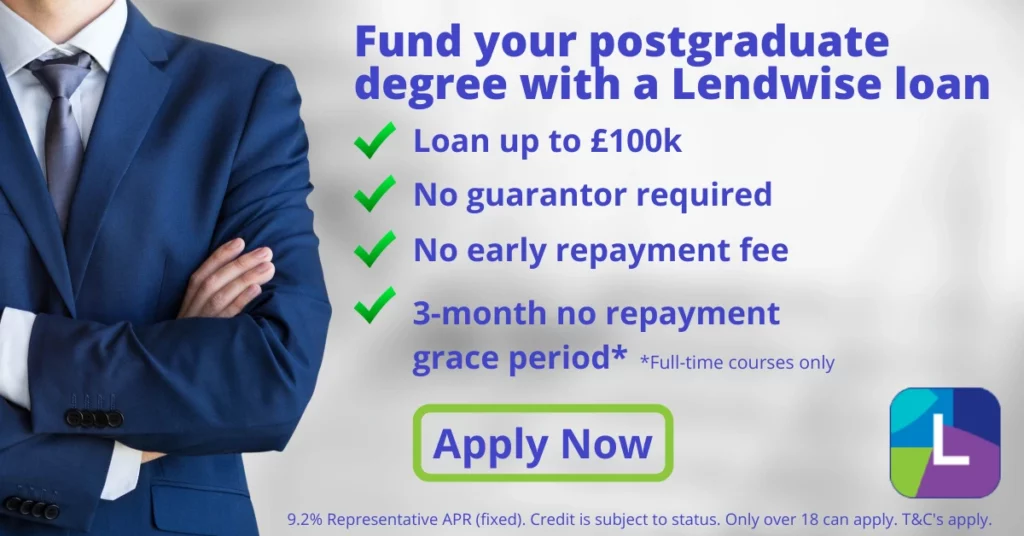 Looking for a postgraduate degree, postgraduate certificate or postgraduate diploma which could improve and excel your career prospects? With Lendwise, you can apply for a tuition loan to help cover the missing funds to help change your life today. And the best thing – it works alongside student finance loans too.
All you need to do is sign up and apply today to receive a conditional offer.
9.2* Representative APR (Fixed). Credit is subject to status. Only those over 18 can apply. Terms & conditions apply.
*This figure was correct as of 18 July 2023
---