A Masters Guide To Oxbridge
Oxbridge is a term used to describe England's two oldest and most prestigious institutions; the University of Oxford and the University of Cambridge. Academic reputation and unique traditions make spots at the universities some of the world's most highly sought-after degrees. But what sets them apart from the rest? Do they really offer the best postgraduate education in Europe?
What is 'Oxbridge'?
Both universities have over 800 years of history, giving them the edge of having the world-class reputation they both enjoy today.
The University of Oxford's exact foundation date is currently unknown, but there is evidence of teaching taking place in the area as early as 1096. This makes the university the oldest in any English-speaking country and the second-oldest continuous university in the world.
In 1209, scholars left the University of Oxford after a squabble between townspeople and students turned violent due to political conflicts. They left for the quaint village of Cambridge and created the second-oldest university in England.
'The term 'Oxbridge' was coined in 1957 by economist G.D. Worswick in an essay for the Times Educational Supplement and has now slipped into the common usage to describe and compare the iconic pairing of both universities.
What makes Oxbridge different?
Courses
The biggest difference between Oxbridge and other UK universities is the qualification available. Neither university offers Masters of Art (MA) as a standalone degree but is offered as an honorary qualification to former undergraduate students. The University of Cambridge also doesn't offer a Master of Science (MSc). So what do you study?
The most common postgraduate degree on offer at Oxbridge is the Master of Philosophy (MPhil) and the Master of Studies (MSt). Other degrees include a Master of Business (MBA), Master of Fine Arts (MFA), Master of Theology (MTh), and many more.
Both universities teach some of their postgraduate qualifications differently from each other and some with different durations. But degrees can carry the same amount of prestige as each other.
Structure
Both universities are compromised of a series of colleges, which have a large residential and social function. All postgraduate students are part of a college with many living there. The colleges are more than just a hall of residence, many have their own libraries, sports, social events and more.
Belonging to a college essentially means you are integrated into a small community as well as being a member of your academic department. In essence, although you will be part of a college, you are all a part of the university the colleges make up.
Traditions
Oxbridge's long and rich history means they have acquired fascinating traditions. The most well-known tradition is matriculation, a formal ceremony marking your admission to the university. Students are required to wear formal academic attire which is worn at several other formal events throughout the year. The ceremonies are partially conducted in Latin, in addition to many others too.
Others include the famous head-to-head The Boat Race, watched by a TV audience of between 5-10 million viewers, and the Corpus Christi Tortoise Fair.
Are the universities the best in the UK?
If you are attending either university, you will guarantee to receive a very high standard of education, and both universities consistently occupy a top 5 spot in the university league tables. Oxbridge has produced an impressive list of alumni including 43 UK Prime Ministers, 200 Novel laureates, numerous world leaders and politicians, Olympians, actors, scientists, and many more.
The current ranking of both universities is in the following tables:
However, rankings are not always the most useful tools for deciding which institution is the ideal fit for you, not least because there are no specific university rankings for each and every course. A clear search should start with your personal goal and shortlist specific courses aligned with your goals. Starting with the ambition to gain a sport within Oxbridge at the expense of everything else will be seen as foolish.
How to get into Oxbridge?
Getting into Oxbridge today is far easier compared to decades ago. This is due to the lower percentage of students who gained the required grades and could pass the difficult entry interview and exams. Today, with an increase of materials just one quick search away, the number of students achieving the required grades has increased. In 2020/21, Oxford only offered 20% of the Master applicants a spot, while Cambridge offered 35%. These are generally much lower than other universities.
General requirements for Oxbridge are as followed (this is not a set-in-stone list):
A UK bachelor's degree (or an international equivalent) – Your degree must be at least a 2:1 grade, but some courses may require a 1st.
Academic transcript – With such high competitiveness, you may be required to have consistently high grades throughout your academic journey and a strong overall classification.
Personal statement – Also known as a statement of academic purposes, you will need a very strong and convincing personal statement
Referees – Cambridge requires 2 referrals, with Oxford requiring 3. These referees must be of academic backgrounds, but some courses may accept a professional reference too.
Task – You will need to complete a task and this may come in two writing examples – this could be from scratch or work previously submitted during your undergrad.
An academic CV
Proof of language proficiency (if applicable). See if you require an English Language Test and/or a Graduate Management Admissions Test (GMAT).
Also note, application deadlines to Oxbridge are often earlier than most universities, so make sure to keep close attention to the dates.
Fees and Funding
Fees for both universities depend on course and duration. At the time of writing this blog, a one-year MBA at Oxford costs £71,440 while it costs £64,000 at Cambridge. The fees exclude any living or other expenditures. International students should expect to pay significantly more.
Luckily, there are some funding options available for prospective students including a wide range of scholarships on offer. Cambridge awards up to £100m in postgraduate scholarships every year, while Oxford offered 1000 scholarships during the 2022/23 academic year. If you are a UK student, you are eligible for a Government postgraduate loan scheme, similar to undergraduate loans. Visit the following depending on your country of residence; England, Northern Ireland, Scotland, and Wales.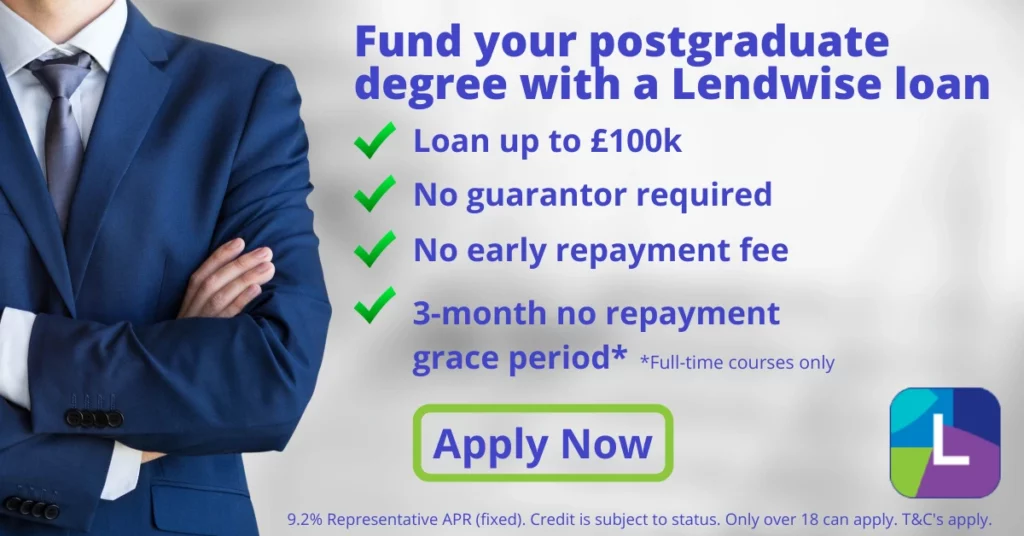 There are other funding options too. A Lendwise Loan can help you fund your course at Oxbridge. With a loan amount of up to £100k, you can help pay for your degree and living expenses during your studies stress-free. Each loan is tailored specifically to you and you can apply for free to receive a conditional offer (which you don't have to accept). The interest is fixed for the entire loan term and you could be eligible for a grace period of 3 months after you graduate (if you study full-time). All are welcome to apply today.
9.2%* Representative APR (fixed). Credit is subject to status. Only those over 18 can apply. Terms and Conditions apply.
*This figure was correct as of 29 June 2023
---