Considering a Master's in science, technology or mathematics? If you're looking for a taught subject, you'll most likely be awarded an MSc. Some courses in Science and Technology award a Master of Arts (MA) instead. Equally, Engineering can be awarded as an MSc while more specialised programmes are awarded a Master's in Engineering (MEng).
For more information about which career paths can other Master's degrees can lead you towards, click the image below.
Below are some simple overviews of the MSc qualification and which career path it can lead you towards.
What is an MSc?
MSc is a taught Master's in Science, Technology and in Mathematics. It stands for Magister Scientiae meaning Master's of Science in Latin. Besides, it's been taught and studied for centuries.
Fun Fact: At one point in history, MSc was the highest level of academic qualification available. However, in the modern day, it is now a secondary qualification that can pave the way to a PhD.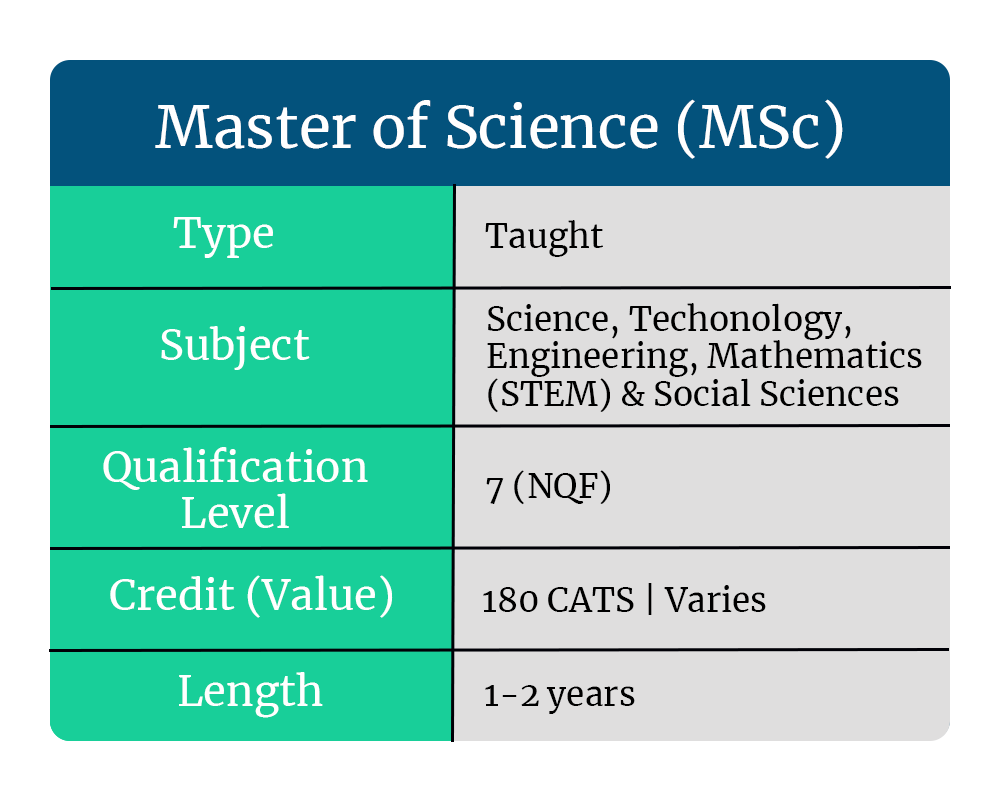 Entry requirements
To study an MSc, you'll normally require an appropriate undergraduate degree. This doesn't need to be a Bachelor of Science (BSc) but must be an appropriate subject. Furthermore, most programmes require a minimum 2.1 grade.
You may be able to study an MSc with an unrelated undergraduate degree or without a [Bachelors] degree, but this depends on the institution and your relevant work experience.
Which subjects award an MSc?
MSc is typically awarded to subjects in STEM subjects; Science, Technology, Engineering and Medicine. But it's not quite as simple as offering a Master's of Art (MA). These subjects tend to award their own specialised degree, particularly in subjects related to chartered professions. Such qualifications need to meet the accreditation standards.
For example, an engineering student studying a four-year Master's of Engineering (MEng) is technically an undergraduate degree, a Bachelor's with a Master's. This is therefore an MSc but meets the same accredited standard as an MEng.
Similarly, an Art or Humanities subject can also award an MSc with subjects including Linguistics and Archaeology. Some subjects include:
Biomedical Science
Business and Management
Computer Science
Data Analyst
Football Coach
Global Digital Marketing
Psychology
You can view other degrees and universities here.
How long is it and how many credits is it worth?
In the UK, a full-time MSc takes either one or two years depending on the subject and university. Alternatively, part-time students should expect two to four years.
In the UK, they are worth 180 credits and 90 ECTs in the Bologna process.
Which career path can an MSc steer you towards?
As an MSc can be awarded in many different subjects, it can lead you to a wide range of positions across many industries. As such, the list would be too long to write, and we have included 10 positions the degree could lead you towards;
Chemist
Cyber Security
Developer
Financial Analyst
Human Resources
International Relations
Marine Biologist
Microbiology
Project Management
Sports Management
Whichever role you decide to progress to with an MSc, remember the training and materials you have learned during your course. If you are unsure which Master's is right for you, click the image below to find where other Master's can lead you.
---