What Can You Do With A Master Of Physics (MPhys) Degree?
If you're looking to specialise in a specific physics field as an undergraduate into a Master's, you should be looking to complete an MPhys.
For more information about which career paths can other Master's degrees can lead you towards, click the image below.
Below are simple overviews of the MPhys qualification and which career path it can lead you towards.
What is an MPhys?
MPhys stands for Master of Physics and it is an integrated Master's programme similar to a Master of Mathematics (MMath). An integrated Master's is a program which combines the education of undergraduate and Master's into one degree in the same institution.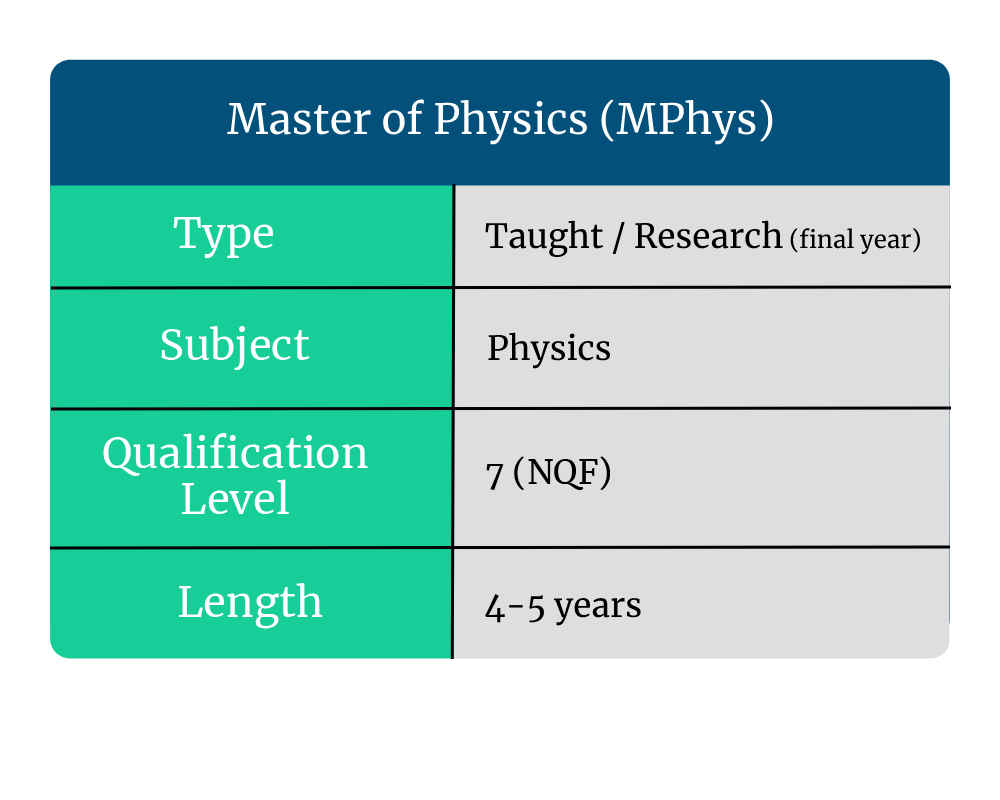 MPhys is a taught subject with research elements in the fourth and final year. However, the courses can differ and there could be more research elements than taught in the final year, but could also be accompanied by various projects. In addition, depending on the university, the final year could be considered equivalent to a Master of Science (MSc) degree.
Some universities offer degrees in specialised fields such as Lancaster University's physics department which include:
MPhys Physics
MPhys Physics with Biomedical Physics
MPhys Physics with Space Science
MPhys Theoretical Physics with Mathematics
Entry requirements
To be considered, you should aim to have taken physics and maths during your A-Levels and achieve at least AAB grades. Ideally, for top-tier universities, you should aim to have gained A*AA grades with the A* in physics, mathematics or further mathematics.
You should also undertake extra qualifications to improve your knowledge and understanding of the field. This can be done through a number of different qualifications which you can find out at your college, sixth form, prospective university, or elsewhere outside of education.
To apply, you'll have to go through UCAS. As an integrated programme, you may also need to provide proficiency in the English Language, you can find out more information here.
How long is the degree?
For most universities, MPhys lasts four straight years, however, there are a selected few that last 5 years.
The first three years are classified as the undergraduate Bachelor years while the final year or two are classified as the Master's. Because of this, the end of the third year will contain academic performance examinations to see if you are allowed to progress into the final year.
The first part of the degree is taught teachings while the second part has research elements. In addition, you should expect to complete one or two dissertations or projects in your final year.
Which career path can the degree steer you towards?
As a physics degree, you should expect the degree will help you progress within the scientific industry, depending on whether you chose a specialised field. To take the program as a non-specialised and generic degree, a physics degree can steer you towards a career path in:
Aeronautical Engineer
Astronomer
Astrophysics
Chemical Engineer
Computer Programmer
Geophysics
Meteorologist
Nuclear Engineer
Physicist
Researcher
School Teacher
---