What Can You Do With A Master of Mathematics (MMath) Degree?
If you're looking for a degree which brings new ways of approaching and analysing complex problems using maths, you may be looking at an MMath.
For more information about which career paths can other Master's degrees can lead you towards, click the image below.
Below are simple overviews of the MMath qualification and which career path it can lead you towards.
What is an MMath?
MMath stands for Master of Mathematics and it is an integrated Master's degree which means it's a program which combines Bachelor's directly into a Master's degree. MMath is a specific advanced degree for courses in the field of mathematics.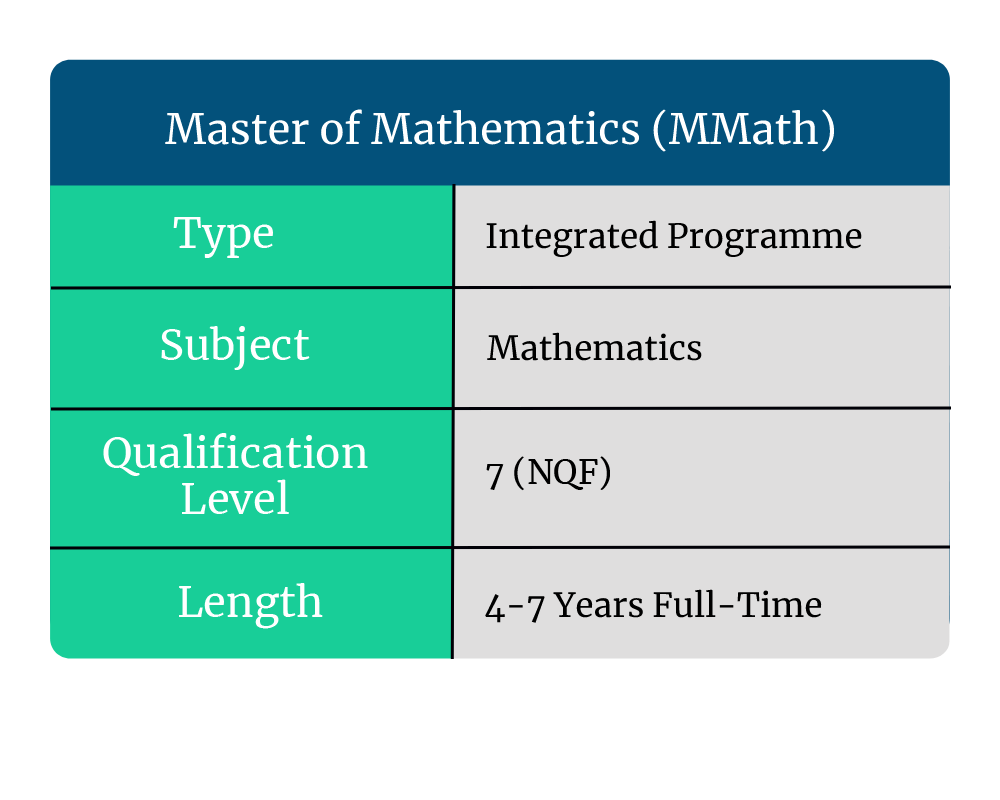 In the UK, MMath is an internationally recognised qualification at the university level. Since 1992, most leading universities have offered the program including the University of Bath, the University of Edinburgh, the University of Cambridge, the University of Oxford, and the University of Manchester.
Entry requirements
Unlike other Master's, you will have to apply for an MMath through UCAS, with the codes starting at G100. As part of your A-Levels, you must have ideally taken both Mathematics and Further Mathematics. If you have not, you must demonstrate individual talents that will help your entry into the course.
To gain admissions, a majority of the universities request A-Level grades of at least an AAB to be considered as part of the widening access pool, but the higher the grades, the better chance you have at receiving admissions. However, if you haven't achieved at least an AAA, you will have to demonstrate individual brilliance through other diplomas/qualifications such as:
Extended Project Qualification (EPQ)
General Certificate of Education Advanced Extention Awards (GCE AEA)
Maths Admission Test (MAT)
Test of Mathematics for University Admissions (TMUA)
As an international student, you may also require to demonstrate a level of English Language competency regardless of your nationality or country of residence. You can find out more information about the different types of English Language Tests.
Be sure to research which grades you need prior to applying as each university and course requires different grades.
How long is the degree?
An MMAth is unlike most degrees. As an integrated program, the degree will last longer than most as you'll have to complete the "Bachelor's" part of the program. Typically, the degree lasts between 4 to 5 years, 3 years for the Bachelor's and one to two years for the Master's integrated section. As the degrees differ, some courses can be slightly longer.
As an integrated programme, you will be unable to complete the 'Masters' section of the course part-time.
Which career path can the degree steer you towards?
As a mathematical degree, you should expect your career directory to be aimed at roles which use mathematics on a daily basis. Such roles include:
(Chartered) Accountant
Data Analyst
Financial Advisor/Trader
Insurance Underwriter
Investment Analyst
Meteorologist
School Teacher
Software Engineer
Statistician
Depending on your specialised field, you should expect to be employed in the following industries:
Education
Engineering
Finance/Banking
Government
Insurance
IT and Business
Marketing
Petroleum Industries
Space Science and Astronomy
---