What Can You Do With A Master of Education (MEd) Degree?
If you're looking into a career in the education industry, you may wish to consider an MEd degree. While a Master's is not needed to enter the education world, it provides a useful stepping stone for more specialist teaching, consultancy or administration positions.
For more information about which career paths can other Master's degrees can lead you towards, click the image below.
Below are simple overviews of the MEd qualification and which career path it can lead you towards.
What is an MEd?
Magister Educationis is a master's degree awarded by universities in many countries. The degree is often given to educational courses in teaching, counselling, psychology and administration. Similar degrees providing the same qualification include the Master of Arts in Education (MAEd) and the Master of Science in Education (MScEd).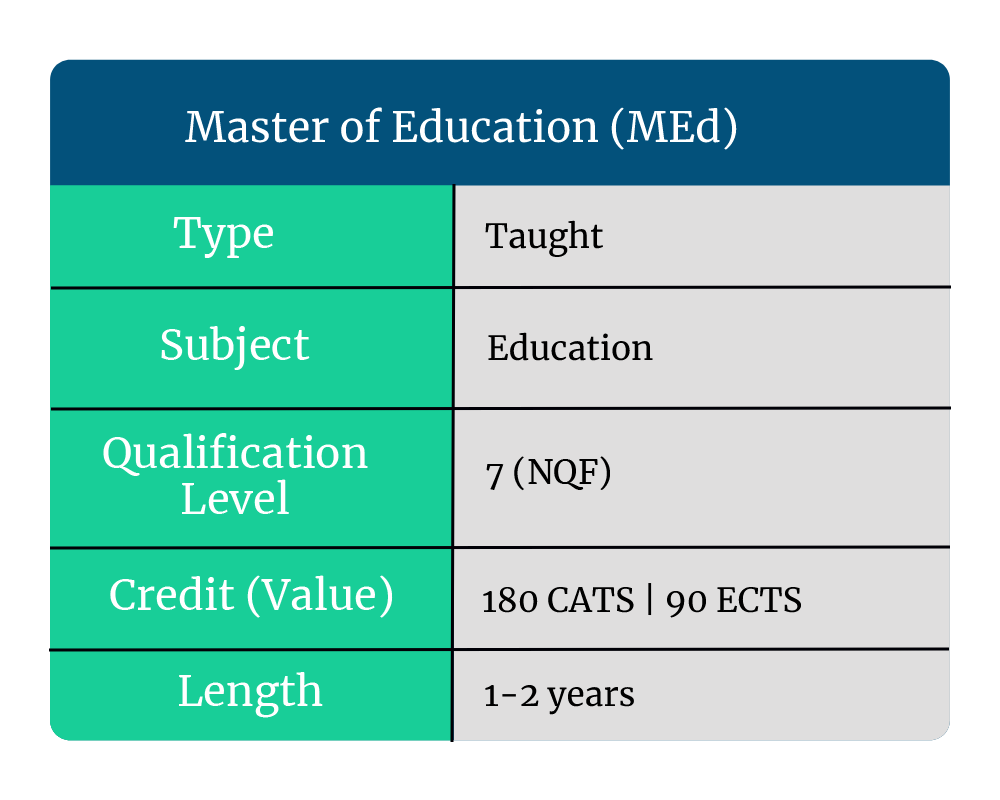 The MA version has a stronger focus on research and discussion while improving your understanding of schooling in addition to the social and economic factors. Contrasting, MEd is more focused on practical experience and has an in-depth focus on the teaching process in addition to administration and counselling areas.
However, both versions are considered equivalent in their educational level.
Entry Requirements
For most universities the requirements are straightforward and similar – there may be some differences but you should check prior to applying.
There are a few criteria for this degree:
Bachelor's degree (or equivalent qualification) with a minimum grade of 2:2
A degree with less than 2:2 but at least two or three years of experience
Teaching qualifications such as a Diploma in Education and Training (DET) or similar with at least a year or two of experience
You may also need to provide a Disclosure & Barring Service (DBS) check or certificate as part of the application as you may be working alongside underage students or vulnerable adults.
In addition to the above, you may also need to provide an English Language test score as part of the application if English is not your first language. Learn more about the types of English Language Test.
Finance your MEd with Lendwise
If you are looking for financial assistance to fund your Master's degree, Lendwise is a one-stop shop for achieving your dream degree with a fair and sensible loan tailored specifically for you. Apply today above.
*9.2% Representative APR (fixed). Credit is subject to status. Only those over 18 can apply. Terms and conditions apply.
*This figure was correct as of 29 June 2023
How long is the degree and how many credits is it worth?
The degree has a total of 180 CATS or 90 ECTS, with the dissertation amounting to the most overall credits.
Overall, the course lasts for a year full-time and two years part-time.
Which career path can it steer you towards?
This degree can help open doors to a range of different career options within the education industry.
If you like to continue or remain in the teaching field, your master's can help you work in specialised schools or at higher institutions with older students. Some examples include:
Higher education teacher
Special education teacher
Teaching English as a secondary language
Tutor
However, achieving an MEd doesn't restrict you in a teaching role. In fact, there are various roles within the education sector which you could pursue, from leadership to content writing:
Content writer
Education administrator
Education consultant
Headmaster (or other high-level position)
Instructional designer
Learning director
---