If you're looking to study for a Master's in the Arts and Humanities, you'll normally gain a Master of Arts (MA). This Master's is not to be confused with the similar yet slightly different Master of Fine Arts (MFA). The MA focuses on the scholarly, academic or critical study of a field rather than the artistic practice of the field.
For more information about which career paths can other Master's degrees can lead you towards, click the image below.
Below are some simple overviews of the MA qualification and which career path it can lead you towards.
What is an MA?
MA stands for Magister Artium, Latin for Master of Arts. The MA is a taught professional Master's degree and it is offered in most Arts and Humanities subjects, however, in some cases, also given out in subjects in Social Sciences.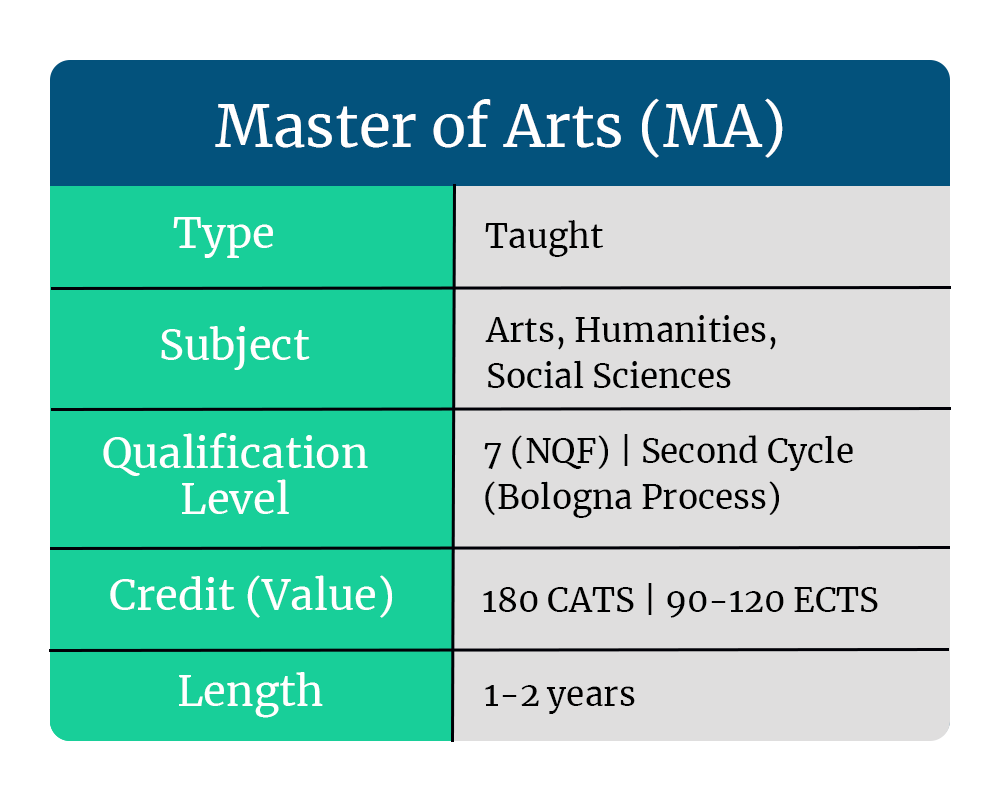 Fun Fact: The Master of Arts is one of the oldest types of postgraduate degrees, tracing its origins to the teaching license of the University of Paris. It was originally designed to produce masters who were graduate teachers of their subjects.
In some universities, it originated as an academic teaching qualification. Graduating with an MA would make you a Master's in the subject and would allow you to teach it, although a PhD is sometimes a requirement these days.
Entry requirements
To study for an MA, you'll require a Bachelor's degree, although it's not typical to have studied a relevant field. The entry grades are typically set at a minimum of 2.1 but some may make some exceptions.
Which subjects award an MA?
MA are part of the higher education system and is therefore awarded by many universities worldwide.
In the UK, the MA is a level 7 qualification, which is the equivalent level of an MBA, MSc, MPhil and others within the National Qualification Framework.
Within Europe, the degree is awarded as a second-cycle qualification as per the Bologna Process. In many countries, modern degrees replaced older Master's which were once known as long-cycle qualifications.
In the USA and Canada, MA is a postgraduate degree. It can be studied as a standalone degree or as part of a longer graduate programme into a PhD.
Which subjects award an MA?
MA is awarded for most Arts and Humanities subjects, as well as some Social Sciences. However, not all Arts or Humanities offer an MA, some may offer MLitt, MFA or Technical Humanities offering an MSc.
Some courses outside of Arts and Humanities can offer an MA, such as a computer science course studying digital artwork. This differs from university to university, but as such, some of the subjects that may award an MA are as followed:
Art Studies
Diplomacy
Film
Graphic Design
History
Languages
Law
Literature
Marketing
Public Administration
Political Science
Social Research
You can view which subjects award an MA degree at which university here.
Who should study for an MA?
An MA is an ideal degree for anyone interested in Arts and Humanities. You'll have the chance to explore your subject's course in greater depth and be encouraged to think critically and independently.
Although the subject is taught, your dissertation will generally give you the freedom to complete a serious research project – paving the way to prepare for a PhD or other higher qualifications.
How long is it and how many credits is it worth?
The length of an MA depends on the country and region.
In the UK, an MA typically lasts a year full-time, or two years if part-time. Your course will have a 'holiday' period that you would normally use to complete your dissertation. The degree is worth 180 credits, 60 given to the dissertation and the other modules with 30 each.
In Europe and the USA, most MA's tend to last two years on full-time study. Unlike the UK version, the programme may include a 'holiday' period which students often use to complete internships in addition to their dissertations. Each academic year is worth 60 ECTs, but depending on the length of the course, the overall degree could be worth in the region of 90-120 credits.
Which career path can it steer you towards?
As mentioned above, many different types of subjects can offer a Master of Arts degree. But for this guide, we will only focus on the roles which are typically and traditionally suited for those with an MA. Some include;
Advertising [Art] Director
Animator
Art Therapist
Art Gallery Manager
Community Art Worker
Curators [Museum or Galleries]
Fine Artist
Graphic Designer
Historian
Illustrator
Marketers
Printmaker
School Teacher
Translator
VFX Artist
Whichever role you decide to progress to with an MA, remember the training and materials you have learned during your course. If you are unsure which Master's is right for you, click the image below to find where other Master's can lead you.
---