What Can You Do With A Master of Fine Arts (MFA) Degree?
If you're looking to study for a practice-based Master's in the Arts and Humanities subject, you will want an MFA (Master of Fine Arts) degree. This is not to be confused with the Master of Arts (MA) degree, which focuses on the scholarly, academic and critical study of a field rather than the artistic practice MFA offers.
For more information about which career paths can other Master's degrees can lead you towards, click the image below.
Below are some simple overviews of the MFA qualification and which career path it can lead you towards.
What is a Master of Fine Arts degree?
The MFA is a practice-based postgraduate Master's degree and it is offered in most Arts and Humanities subjects. It's a well-established qualification in the creative art world.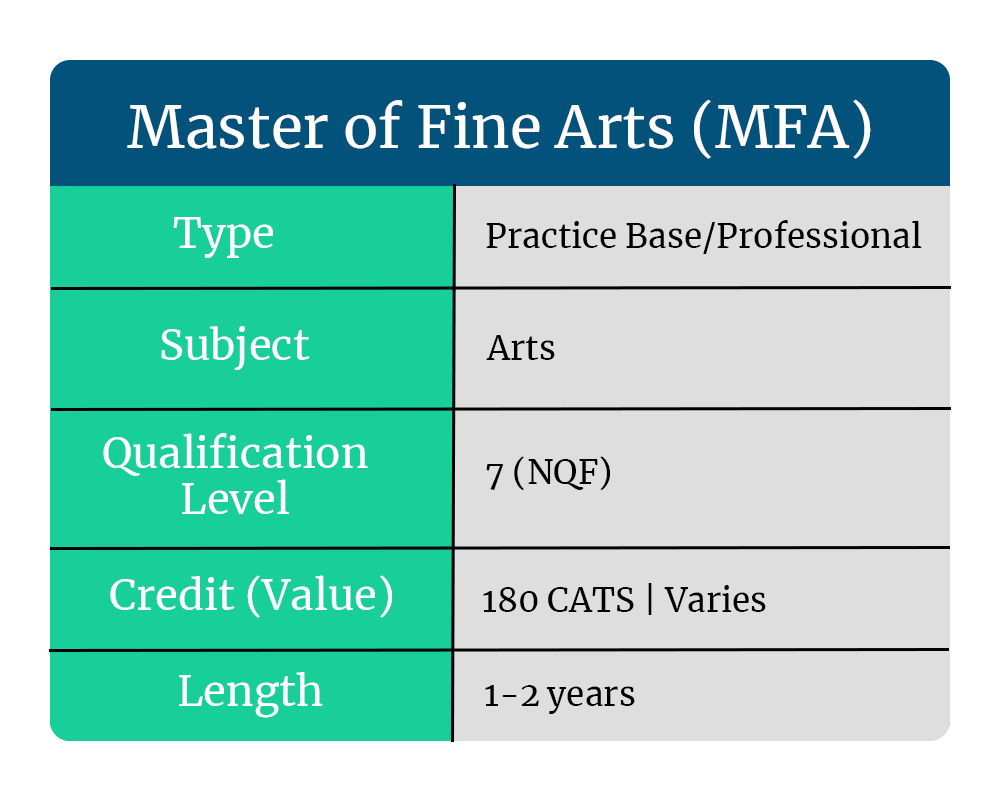 The MFA is also a terminal degree – this means it cannot progress into a PhD or similar level qualification. Similarly to an MBA, the MFA is the highest prestige qualification for candidates with this set of skills, experience and solid career goals.
Entry requirements
As a postgraduate qualification, you will need to hold an appropriate undergraduate degree. Standard qualifications tend to be fine provided you demonstrate sufficient practical skills and interest in the fields. Any relevant degree will need a grade of 2.1 or higher, but many universities can accept a 2.2 depending on the ambition and aspiration of the candidate.
Unlike most Masters, MFA is largely practice-based. As such, you will need to demonstrate some creative skills as part of your application in one form or another. You may simply present a sample project or the portfolio of your work. For subjects such as music or drama, you may be asked to perform a presentation, performance or recitation – this could be a recording or in person.
---
Finance your MFA course with Lendwise
If you are looking for financial help to fund your Master's degree, Lendwise is a one-stop shop for achieving your dream degree with a fair and sensible loan tailored specifically for you. Apply today above.
9.2%* Representative APR (fixed). Credit is subject to status. Only those over 18 can apply. Terms and conditions apply.
*This figure was correct as of 29 June 2023
---
Which countries award an MFA?
MFA originated from the USA and it's now becoming a fairly common qualification around the world, especially within the UK.
USA: Is offered within broader programmes at specialised universities. The degree lasts two years.
UK: It has become more popular in the UK in the last decade. MFA does not have a specific place in the UK's National Qualification Framework (NQF) as of yet, but as a Master's, it's expected to sit on the level 7 qualification.
Europe: They are less common but some universities are offering them as part of specialised programmes. Content and length differ from the UK or USA MFA. When offered, it is part of the second cycle in the Bologna Process.
Which subjects award an MFA?
As expected, the Master of Fine Arts is offered in creative arts subjects such as;
Art & Design
Creative Writing
Drama
Fashion
Illustration
Graphic Design
Music
Photography
Textiles
VFX Effects
Who should study for an MFA and why does it differ from an MA?
It's ideal for one to study for an MFA if one wants to work in a creative profession. You'll receive extensive training and benefit from expert supervision and feedback to help improve your skills further. In addition, an MFA is a well-respected qualification in the creative arts world and you will leave with a substantial portfolio of work.
If you are more focused on an academic path, an MFA is less ideal as it's classified as an end degree and therefore, you should focus on a Master of Arts degree instead.
An MA is an academic degree, normally as a taught programme across Art, Humanities, and some Social Science subjects.
An MFA is a practice-based programme and is only offered in Art subjects based on performance or creative work.
How long is an MFA and how much is it worth?
Unlike many other Master's degrees, this is a two-year course or four-to-five years part-time. As a practice-based programme, it is hard for the credit system to be used in the course and each person is analysed based on their coursework and dissertation.
If your MFA has taught organised modules, they may be given credits instead. The credits will be based on the total minimum credit requirements for a UK Master's (180 credits) which are split among the modules.
Which career path can an MFA steer you towards?
An MFA can steer you towards the same route as an MA, but with slightly more options including;
Actor
Advertising Art Director
Animator
Art Therapist
Art Gallery/Museum Director
Designer
Fine Artist
Gallery/Museum Curator
Graphic Designer
Printmaker
Teacher
Specialised Technician
VFX Artist
Whichever role you decide to progress to with an MFA, remember the training and materials you have learned during your course. If you are unsure which Master's is right for you, click the image below to find where other Master's can lead you.
---