What Can You Do With A Master of Law (LLM) Degree?
If you're a law graduate interested in advancing your training or want to specialise in a specific branch of law, you may wish to consider a Master of Law (LLM).
For more information about which career paths can other Master's degrees can lead you towards, click the image below.
Below are some simple overviews of the LLM qualification and which career path it can lead you towards.
What is an LLM?
The term LLM means Legum Magister, Latin for Masters of Law. It is one of the oldest degrees and it is a qualification recognised worldwide. The degree is mostly taught, but some courses can have elements of research.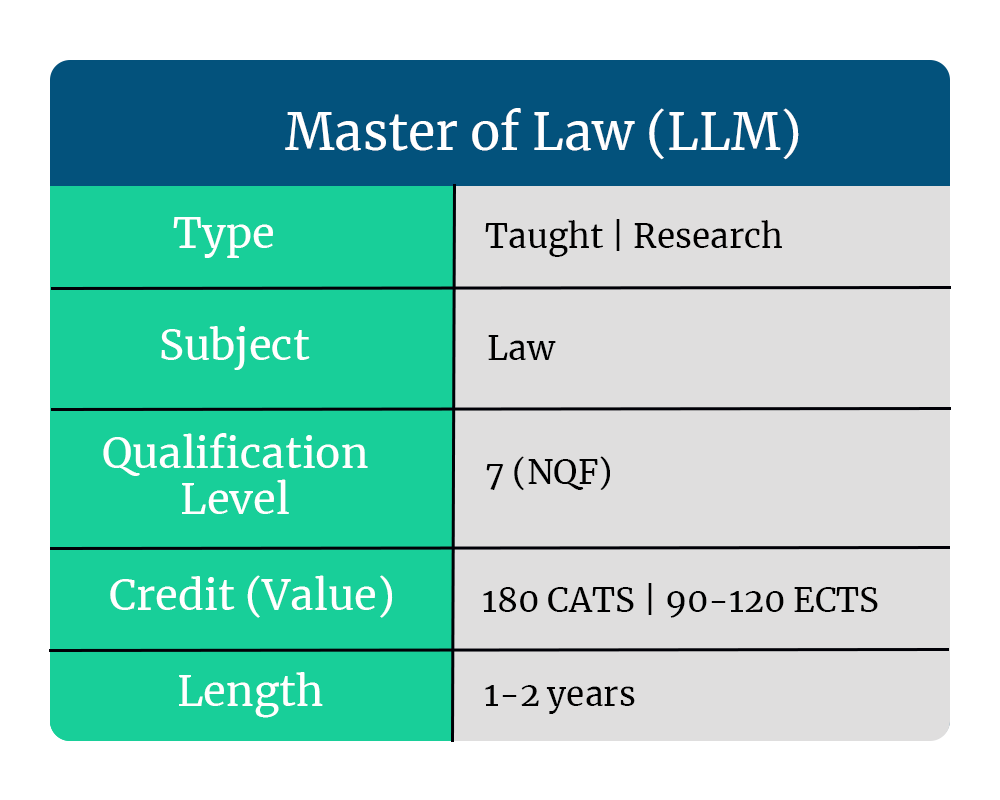 LLM is a non-professional qualification – you don't need one to practice law. However, achieving one could advance your current training and expertise making you more attractive to law firms. Most courses are specialised, allowing you to study a specific brand of law in greater depth.
Entry requirements
Most students who apply will have an existing Law degree. This could be a Bachelor of Law (LLB) or a postgraduate law conversion qualification. Typically, universities require a 2.1 grade or higher and a relevant Bachelor's.
Which countries award an LLM?
LLM is a common degree awarded worldwide but there are slight differences between the countries. Historically, it's associated with the Anglophone university system (Australia, Canada, New Zealand, UK and the USA) as an academic Master's degree.
However, it's not always under the same name degree:
In Europe, it is recognised by the Bologna Process but its status and purpose can vary. Some countries have their own tier for LLM qualifications; they can be part of professional training or academic programmes
In Asia, they are becoming more and more popular as universities adopt Western degrees, but they are typically more academic rather than professional.
Who should study an LLM?
Despite being a law degree, the programme is flexible and allows you the opportunity to learn an advanced understanding of your chosen legal theory.
In theory, you should only consider an LLM if you meet any one of the following:
Considering a career in law
Combined with other qualifications, LLM can be very attractive to law firms and other recruiters. Specialised courses can also enter a range of legal practice roles.
Specialise in legal practice
There are many different branches of law that one can study in-depth. Many students in the programme may already be qualified solicitors or legal professionals looking to hone their skills and knowledge.
Understanding legal expertise in another branch
Law professionals aren't the only ones who regularly deal with legal issues. Many organisations employ staff to deal with all aspects of the law that impact their business or practices.
Interested in legal theory
LLM doesn't have to have a specific outcome. The study of law can be interesting and the course is a great way to explore your interests. It could also prepare you for a PhD or even an academic career.
Best UK university to study Law
While there isn't a list of the best university to study for an LLM, there are however university rankings to determine which universities would indeed be better for your Master's.
The following are the top 10 UK universities in the law subject by Times Higher Education:
1: University of Cambridge
2: University of Oxford
3: University of Central London (UCL)
4: University of Edinburgh
5: London School of Economics and Political Science (LSE)
6: Kings College London
7: University of Glasgow
8: Durham University
9: University of Bristol
10: University of Manchester
How long is it and how many credits is it worth?
LLM is a one-year course or two years if studying part-time. This includes two teaching terms and a period to complete your dissertation. Similar to other Master's degrees, a full Master of Law is worth 180 CATs in the UK, or 90 ECTs in the Bologna Process.
Which career path can an LLM steer you towards?
Because of the flexibility of a Master of Law, there is no concrete path to a career role. In fact, an LLM is as flexible as an MPhil. Some possible routes include;
Barrister
Business Management
Compliance Officer
Coroner
Licensed Conveyancer
Management Consultant
Mediator
Solicitors
Politics
Police
Whichever role you decide to progress to with an LLM, remember the training and materials you have learned during your course. If you are unsure which Master's is right for you, click the image below to find where other Master's can lead you.
Are you thinking about pursuing an LLM at a top UK university? Make your dream come true by seizing this opportunity to either take your career to the next level or tick off a personal interest. *Apply online and we'll support you on your path to success.
*Credit is subject to status and loan approval is not guaranteed. Over 18's only. Terms and conditions apply.
---