6 Questions To Ask Yourself Before Getting A Master's Degree
If you're considering a master's, you may have a lot of questions. After all, it's a significant commitment and you want to make sure you are doing it for the right reasons.
There may be a few questions you're afraid about asking during an open day or to a university representative. You may not want to seem nervous, so you may avoid asking them. However, we know it's important to ask these questions, so we have taken the time to address some of them for you.
#1 Will my salary prospects increase?
There is a strong likelihood that your salary prospects will increase upon completing a master's degree. According to official data from the UK Government Longitudinal Education Outcomes (LEO), those with a master's earn an average of £5400 more per year as opposed to those with only an undergraduate degree. However, the exact salary increase will vary depending on the field of study, relevant experience, and the job market.
#2 How will I cope with the stress
A master's degree is a serious commitment and it can be stressful at times. It will require a huge amount of dedication as well as sacrifices – it's important to not let yourself become overwhelmed while pursuing your degree. If you find yourself backed into a corner, don't hesitate to contact a therapist or counsellor to maintain your mental health in check.
Your dissertation is arguably the most important aspect of your course. It gives you the opportunity to conduct research and produce a lengthy piece on a topic that you are passionate about. While the dissertation is rather longer than an undergraduate, roughly between 10-20,000 – the actual content shouldn't be widely different.
#3 Can I work during a master's?
Yes, and many students do. However, it's important to carefully consider your options before making a decision. There are two ways you can approach work during your master's:
Part-time work during a full-time master's. This option allows you to work around your degree on a full-time basis. With this option, it will be difficult to balance work and school and may require sacrificing social activities.
Part-time study during full-time work. This option allows you to earn more money while completing your degree on a part-time basis. This can be a good option if you are unable to leave on a part-time basis or require more money to support yourself. However, it will take longer to complete your degree and may not be able to take full advantage of the resources a full-time course provides.
Related blogs: Pros and Cons of Doing a Part-Time MBA vs. a Full-Time MBA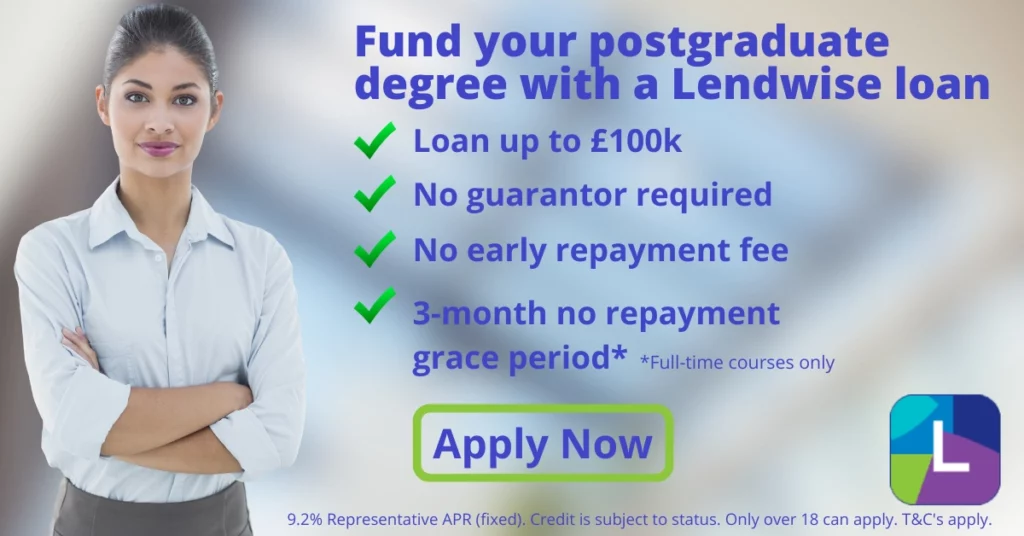 Looking to study for a master's degree to improve your career prospect, and salary potential or ticking a personal achievement but need extra assistance to help pay for the course? With Lendwise, you can borrow up to £100,000 for your tuition with our student-friendly loan with a fixed interest rate. Apply for a Lendwise Loan today!
9.2%* Representative APR (Fixed). Credit is subject to status. Only 18+ can apply. T&C's apply.
#4 Can I apply with a 2:2 bachelor grade?
Entry requirements differ from university to university, course to course. Most programmes require a 2:1 from a relevant undergraduate programme, but some may accept a 2:2 grade.
If you don't meet the academic requirements for the course, there is a chance you could still be accepted. You will need to demonstrate significant professional or extracurricular experience related to the subject.
If you have questions, it's always a good idea to get in touch with the admissions department in advance and ask for their guidance.
#5 Will I become too overqualified?
Not necessarily. A master's builds on the skills you developed at the undergraduate level and perfectly accompanies your professional experience. In fact, there are more jobs requiring a degree – obtaining one can help set yourself apart and improve your career prospects.
#6 Is a master's necessary?
Knowing whether a master's is necessary depends on your individual circumstances and goals. If you are interested in pursuing a career in higher academia or research, a master's is often required. However, if you are interested in working in the private sector, a master's degree is often not required. There are many successful professionals who have only a bachelor's degree.
However, there are many who view a master's to help improve their career and salary prospects. As mentioned in #1, the average salary is increased for someone with a postgraduate qualification with the added benefit of a handful of transferable skills.
But it's not a good idea to dive into a master's for the sake of it. If your goal is to extend your student life for another year, you should reconsider. A master's is not a walk in the park, it requires serious mental and financial commitment.
If you are unsure whether or not a master's degree is right for you, we encourage you to talk to your academic adviser or career counsellor. They can help you assess your individual circumstances and goals and make the best decision for your future.
*This figure was correct as of 8 August 2023
---