What's The Difference Between Taught And Research Masters?
Undergraduate courses are typically taught through classes, but postgraduate courses can be either taught or research-based. These are often referred to as PGT and PGR programs, respectively.
There is a significant difference between the two types of programs, and one may be a better fit for your goals than the other. This page will explain the differences between PGT and PGR programs in more detail, and hopefully help you decide which type is right for you.
What's the difference?
The biggest difference between taught and research masters programs is the level of independent study required.
Taught master's programs are more structured and involve a set timetable of lectures, seminars, and coursework. Students are still responsible for their independent study, but they have more guidance and support from lecturers and tutors.
Research master's programs, on the other hand, are more independent and require students to conduct original research on a topic of their choice. Students will be offered support from supervisors and course tutors, but they have more freedom to explore their own interests.
| Feature | Taught Masters | Research Masters |
| --- | --- | --- |
| Level of independent study | Less | More |
| Structure | More structured | Less structured |
| Coursework | More coursework | Less coursework, more research |
| Guidance and support | More guidance and support from lecturers and tutors | Less guidance and support from lecturers and tutors |
| Focus | A range of subjects | A specific research topic of the student's choice |
Which degrees are given as taught versus research?
Most master's programs are taught courses, including Master of Arts (MA), Master of Science (MSc), and Master of Business Administration (MBA). Shorter courses like Postgraduate Certificate (PGCert) and Postgraduate Diploma (PGDip) are also taught programs.
Most research-based courses are Master of Research (MRes) and Master of Philosophy (MPhil). Some master's programs, like Master of Letters (MLitt), can be offered as either taught or research, but this information is typically available on the university's website.
Should I study a taught or research Masters?
The decision of whether to study a taught or research master's program should depend on your goals, academic interests, and career preferences.
If you want to acquire more advanced knowledge and skills in a particular field before entering the workforce, a taught master's program such as an MBA, MA, or MSc may be a good fit for you. These programs typically offer a structured curriculum with coursework, lectures, and seminars, and they can help you develop the skills and knowledge you need to succeed in your chosen field.
If you have a specific profession in mind, an accredited taught master's program such as a PGCert or PGDip may be a better option. These programs are designed to prepare you for a specific career, and they can often lead to professional accreditation or licensure.
If you are interested in academic research or a profession that requires strong research skills, a research master's program such as an MRes or MPhil may be a good choice. These programs offer the opportunity to conduct independent research under the supervision of an academic mentor, and they can help you develop the skills you need to pursue a PhD or a career in research.
If you are considering an academic career, any of the above routes could be a good fit. However, a research-based program such as a PhD will give you the most in-depth training in research methods and theory. You may also want to consider a 1+2 or 1+3 program, which allows you to complete a master's degree and then seamlessly transition into a PhD program.
Can I still do a PhD with a taught Master's?
Most PhD programs will accept applicants with any master's degree in an appropriate subject. So, if you have a taught master's degree, you are still eligible for a PhD as long as you meet the other requirements.
However, if you are planning to pursue a PhD, it is worth considering a research master's degree, if available in your chosen subject. An MRes is a great way to prepare for PhD study, as it allows you to conduct extensive research and receive specialized training in relevant methods. Another option is to pursue an MPhil with the option to upgrade to a PhD.
Suitability of different master's degrees for PhD study
| Degree | Suitability for PhD study |
| --- | --- |
| Taught master's degree | Can be sufficient for PhD study, but may not provide the necessary research training |
| Research master's degree (MRes) | Excellent preparation for PhD study, as it allows students to conduct independent research |
| Master of Philosophy | Can be a good option for students who want to complete a shorter PhD, or who are not sure if they want to commit to a full PhD programme |
Is there a price difference?
It is often assumed that research master's programs are cheaper than taught master's programs. However, this is not always the case. In some cases, research master's programs can be more expensive, especially in science subjects that require extensive laboratory work.
For example, a research master's program in physics may be more expensive than a taught master's program in English literature. This is because the physics program will require students to use expensive equipment and materials, such as particle accelerators and lasers.
On the other hand, a PhD is typically cheaper than the average taught master's degree. This is because PhD students are typically funded by their university or a research grant. The funding covers the cost of tuition, research expenses, and a stipend to live on.
Ultimately, the cost of a master's program will vary depending on the subject, the institution, and the funding available. It is important to do your research and compare costs before making a decision.
Is the funding the same for research and taught programmes?
The funding situation for research and taught master's programs in the UK is the same. All postgraduate degrees, including MPhil and MRes, are eligible for UK postgraduate loans.
However, it is important to note that standalone MPhils are not eligible for PhD loans, but are eligible for a Masters loan. This means that you cannot take out a PhD loan to cover the cost of an MPhil degree if you do not intend to upgrade to a PhD.
Need help to finance your taught or research-programme postgraduate course?
Looking to study for a master's degree to improve your career prospects, and salary potential or ticking a personal achievement but need extra assistance to help pay for the course? With Lendwise, you can borrow up to £100,000 for your tuition with our student-friendly loan with a fixed interest rate. Apply for a Lendwise Loan today!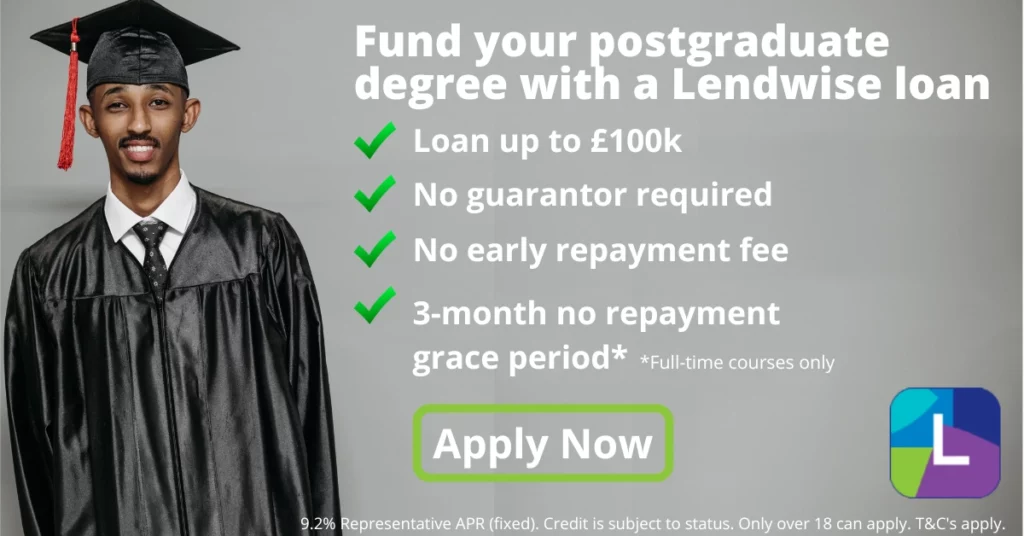 9.2%* Representative APR (Fixed). Credit is subject to status. Only 18+ can apply. Terms & conditions apply.
*This figure is correct as of 5th September 2023
---