What Can You Do With A Master in Social Work (MSW)?
A Master's in Social Work (MSW) will prepare you for a career as a social worker, combining elements of both taught and professional teaching in addition to practice work placements.
For more information about which career paths can other Master's degrees can lead you towards, click the image below.
Below are some simple overviews of the MSW qualification and which career path it can lead you towards.
What is an MSW?
A Master's in Social Work qualifies you as a professional social worker in the UK. By following the standards set by the Health and Care Professional Council (HPCP), these modules equip you with the skills and expertise required to be a successful social worker.
As social work is a practice role, you should expect to complete two placements totalling 200 days over the course of the degree. There are several vocational elements alongside academic modules, which includes theory work and research skills.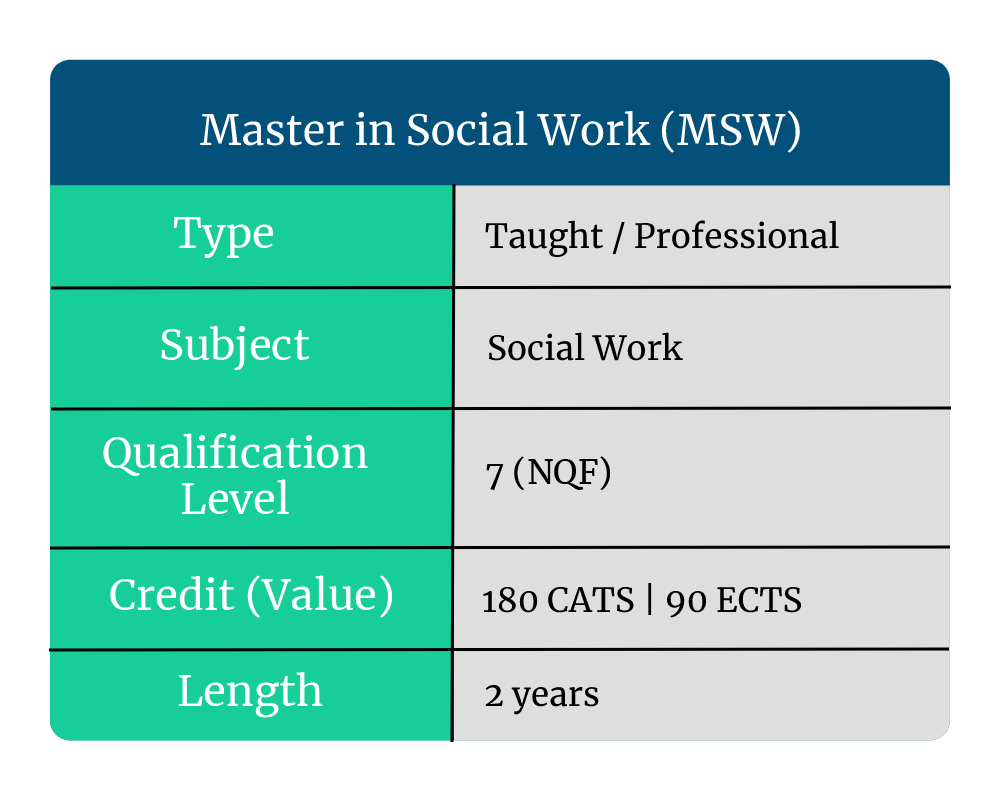 Entry requirements
Entry requirements for an MSW are different to other Masters. Universities will ask you to hold an undergraduate degree in any discipline in addition to demonstrating interest in social work. This means you should have a degree of professional [or personal] experience within a section of social work.
However, those who already have an undergraduate degree in social work should avoid this degree as the undergraduate already qualifies them to become a social worker.
The amount of experience required differs from university however a majority will generally require a minimum of six months. Examples of experience range from:
Personal experience caring for someone with special needs
Volunteering work
Community groups
Mentor schemes
Importantly, you may be required to apply for your Master's through the UCAS website – check the university website beforehand.
Life as an MSW student
MSW gives excellent ground skills you need to qualify as a social worker. By combining academic modules with practical experience, the courses are set up to encourage you to apply your knowledge in a variety of social work-related solutions.
Since social work is a regulated profession in the UK, the Master's courses need to follow a set structure which is set up by the HCPC.
The modules differ from university to university, but you should expect to study and experience in a similar manner. In the first year, the course introduces you to key concepts around policy, law and human development as well as preparations for your first placement.
The second year builds on the skills, knowledge and experience you have already gained. You will also be tackling topics in greater depth and giving you the opportunity to use your newly gained knowledge in a second work placement. You will also need to write a dissertation on a subject of your choice during your second year.
The two placements are the most important part of the Master's. It gives you the first-hand experience you need to become a qualified social worker. Most universities will work alongside the local council or authorities to provide the placements which include working with:
Elderly people
People with mental health issues
Refugees and asylum seekers
Young offenders
(Each placement must be with a different group)
How long is it and how many credits is it worth?
In the UK, a full-time MSW takes two years to complete, or four years if you are a part-time student.
In the UK, they are worth 180 credits and 90 ECTs in the Bologna process.
Which career path can an MSW steer you towards?
Since an MSW is a degree that prepares you for a career as a social worker, you should expect to use this degree in a social working environment. There are specific jobs across the industry which include:
Care Home Manager
Education Welfare Officer
Family Support Worker
Probation Officer
Youth Offending Team Officer
However, a degree in social work could also be beneficial in:
Charity Officer
Community Education Officer
Counsellor
Social Researcher
Teacher
Youth Worker
Whichever role you decide to progress to with an MSW, remember the training and materials you have learned during your course. If you are unsure which Master's is right for you, click the image below to find where other Master's can lead you.
---