What Can You Do With A Master of Research (MRes) Degree?
The Master of Research (MRes) is a degree that emphasises independent study over taught learning. It's not restricted to specific subject areas but it's awarded to any programme that focuses on the student's own research capability.
If you're considering a postgraduate degree but would rather carry out your own research than follow a taught course, you should consider a Master of Research.
For more information about which career paths can other Master's degrees can lead you towards, click the image below.
Below are some simple overviews of the MRes qualification and which career path it can lead you towards.
What is an MRes?
MRes is a common research-based Master's degree. As a research-based degree, it purely exists to train researchers either for professional or academic purposes or in preparation for a PhD.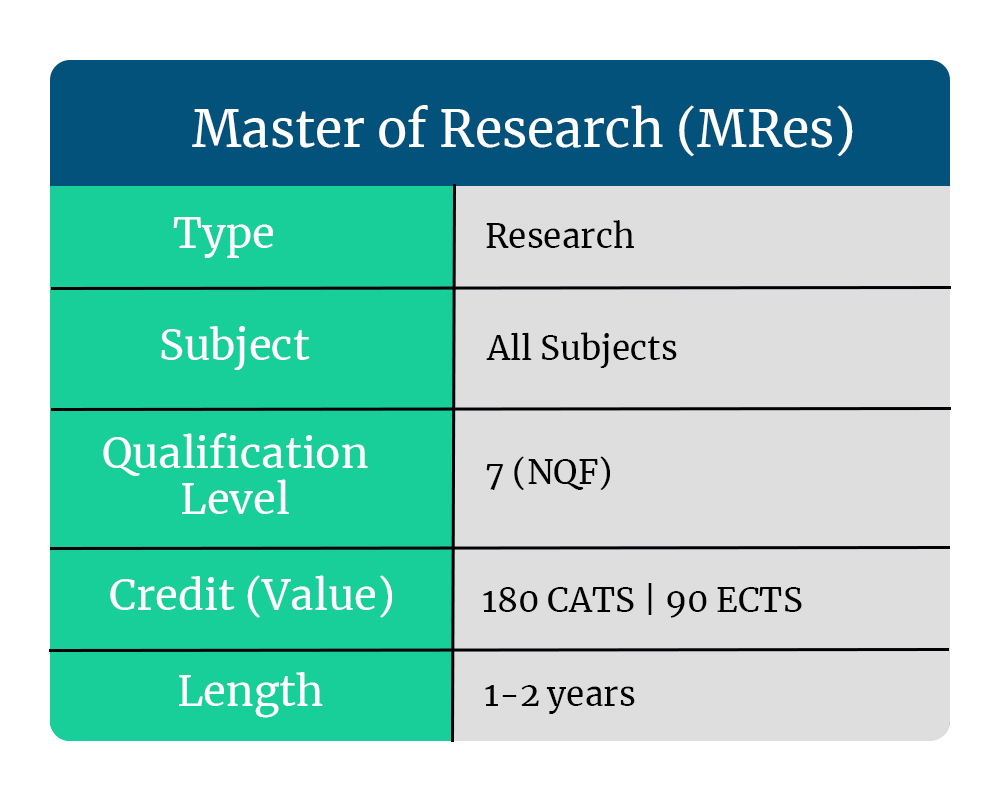 Despite being a research-based degree, you will still complete some taught units. These will normally focus on practice topics such as research techniques and methodology. With that said, this is what separates MRes from the Master of Philosophy (MPhil) which is entirely based on independent projects.
Entry requirements
The entry requirements for MRes are similar to other Masters'. You will need a Bachelor's degree in a relevant subject with an overall grade of over 2.1. In addition and similar to an MPhil, you will need to attach a research proposal to your application, or at minimum, a personal statement detailed with your academic and professional goals and interests.
Which countries and subjects award an MRes?
Master of Research is a relatively new degree as it was designed for students who wish to acquire research training at an earlier stage of the academic process. MRes is most common in the UK and it is offered as a research qualification either as a standalone degree or in preparation for a PhD.
In Europe, MRes are extremely rare as a research-based degree. It tends to stick to the third cycle (highest qualification level) of the Bologna Process as they expect you to acquire advanced knowledge through the Master's second-level cycle.
Similar to an MPhil, there is no specific subject for MRes. You can study any subject provided there is enough scope to research. However, there are slight additions to the Master's in which some universities distinguish the different types of MREs mirroring the Master of Arts (MA) and Master of Science (MSc) programs as followed;
In Arts and Humanities, Master of Arts by Research is often abbreviated to MAREs or MA (res).
In Science and Technology, a Master of Science by Research is often abbreviated as MScRes or MSc (Res).
There is no real distinction between them as some universities may use MA by Research or MSc by Research instead to describe a course with more taught components and specific focuses.
Who should study MRes?
MRes is ideal if your main objective is to acquire research skills, especially if you want to prepare for a PhD. MRes offers more extensive research training allowing you to get the ball rolling once you start a PhD.
Alternatively, you don't have to continue on to a PhD. Many professions value research skills and an MRes offers a shorter and more focused route into research training.
How long is it and how many credits is it worth?
In the UK, a full-time MRes lasts one year on a full-time basis, or two years if taken part-time. It's worth 180 credits, with a majority given through research projects.
In Europe, they are less common and if offered, it takes two years to complete. It's worth 90 ECTS.
Which career path can an MSc steer you towards?
MRes is one of those qualifications that doesn't have a career-binding route as it depends on your chosen research project.
Even if you decide to go into a different profession, there are many transferable skills you would have picked up over the year. These skills could apply to the following professions:
Economist
Editorial
Historian
Journalism
Market Researcher
Psychologist
Researcher
Research Analyst
Whichever role you decide to progress to with an MRes, remember the training and materials you have learned during your course. If you are unsure which Master's is right for you, click the image below to find where other Master's can lead you.
---