What Can You Do With A Master of Philosophy (MPhil) Degree?
If you want to consider carrying out your own independent research as a postgraduate but the project is not as extensive enough for a PhD, you may want to consider a Master of Philosophy (MPhil).
MPhil is a unique qualification that mirrors a PhD rather than a traditional Master's. This guide will follow what is an MPhil and why is it different from a PhD and a typical Master's.
For more information about which career paths can other Master's degrees can lead you towards, click the image below.
Below are some simple overviews of the MSc qualification and which career path it can lead you towards.
What is an MPhil?
A Master of Philosophy (MPhil) is a postgraduate research Master's degree. Instead of completing taught units and assessments, MPhil is entirely based on your own research project.
MPhil can be part of a PhD registration step or as a standalone qualification. Unlike other Masters, this is purely a research degree – entirely based on an independent thesis.
You may be wondering what's the difference between an MPhil and a Master of Research (MRes), and to simply put it, MRes has taught modules.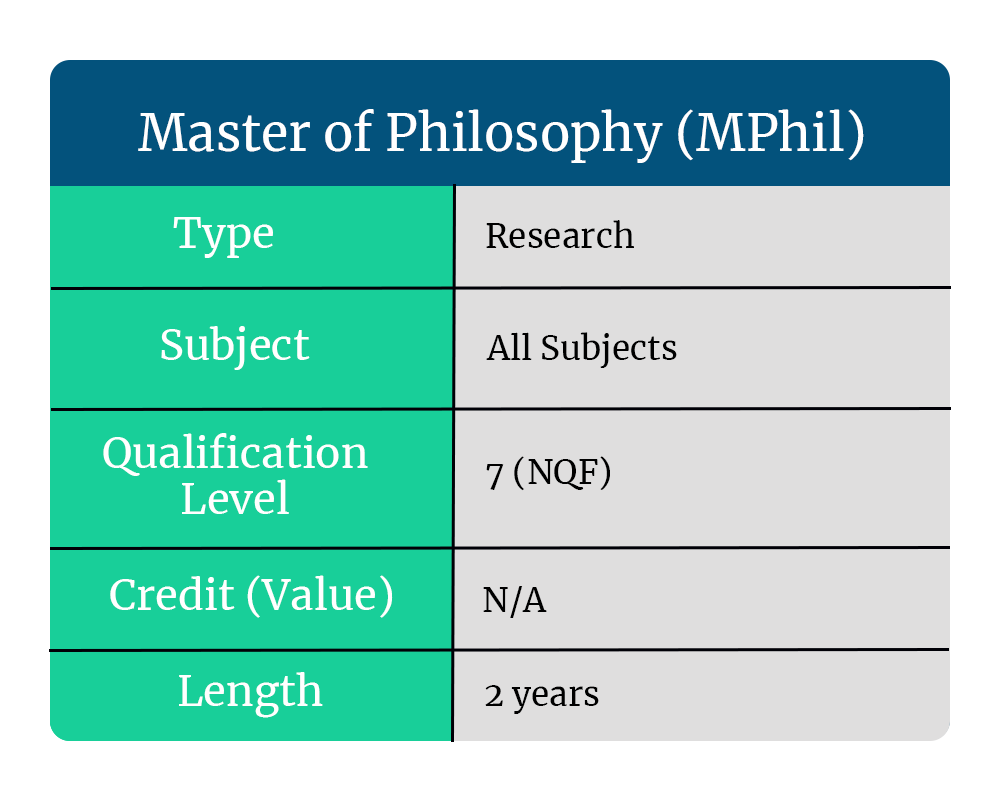 Entry requirements
As an advanced research qualification, there are extra admission requirements to fulfil.
Normally, you'll need an appropriate Bachelor's degree, but you may also need a Master's degree. This will depend on your chosen subject, the university and your proposed research project. If you intend to lead your MPhil into a PhD, your university may require experience at taught postgraduate level, although this may not be necessary if you have a smaller project.
You will also need to include a research proposal, as it will demonstrate your intended project or state how you will tackle it.
Is an MPhil classified as a Master's degree?
After reading the above, you may still be slightly confused – and we don't blame you. Technically and similarly to a research Master of Letters (MLitt), an MPhil sits above the typical Master's but beneath a PhD. If placed into the National Qualification Framework (NQF) levelling system, it will be a 7.5 but still within the level 7 grades.
On the Bologna Process, it sits on the second-cycle level, similar to other Master's or equivalent degrees.
Both systems place it between a Master's and PhD as it acts more as a PhD than its other counterparts, due to the fact you may require a previous Master's degree beforehand.
What is the difference between an MPhil and a PhD?
It's helpful to think of MPhil as the PhD's younger sibling. Some PhDs are titled DPhil which makes the relationship between them clearer.
Another way the qualifications are related is it's common to transfer from an MPhil to a PhD registration depending on the progress of your research. This can happen in a few ways;
You enrol into an MPhil but you can upgrade once your research has reached a certain stage.
Some universities also award the MPhil during a PhD, which will suspend the MPhil degree in favour of the Doctorate.
You can choose to graduate with an MPhil instead of a PhD if you wish to graduate early.
Which countries award an MPhil?
The Master of Philosophy is a well-recognised qualification but its availability and format vary across different postgraduate systems.
UK: It's most common where doctoral studies are purely research-based. In this system, the Master's paves the way to a PhD programme or as a standalone qualification. Australia and New Zealand also offer degrees in the same way.
USA: It's less common in countries such as the USA. This is because the American education system splits its Ph.D. programs into two; the first part is taught-based and the second is research-based. Instead of upgrading, US PhD students typically transfer to the dissertation section of their programme.
Europe: It's even rarer than the USA, although it is recognised in the Bologna Process. However, the process does not allow for a degree that sits between cycles, and thus MPhil and MRes are typically given a second-cycle ranking if awarded. If not, it would typically be awarded in the equivalent form.
Which subjects award an MPhil?
You can earn an MPhil in any subject of your choice as they don't reflect academic disciplines compared to other Master's. There are variant forms of MPhil offered by the Arts and Humanities subjects, but this is more if the university offers it as a specialised research programme in the MPhil form.
In the majority of cases, it's a generic degree available in any academic discipline that can support in-depth research projects.
Who should study for it?
In most cases, an MPhil is seen as a failed PhD, although there are plenty of reasons for studying an MPhil on its own. You may find a smaller research topic that interests you but does not have the scope for a full Ph.D.
MPhil is valued among a range of employers due to the advanced research skills and experience required, but although a PhD also demonstrates the same abilities, it's not as significant outside the academic profession.
How is it examined?
As you won't have any modules or units, you'll be entirely assessed on the strengths of your thesis. This will be done via an oral examination (similar to a PhD) in front of a panel of examiners.
You will be assessed for the accuracy of your findings and understanding. You will also be asked to summarise your thesis and ask questions on your methodology, theoretical framework and literature review.
How long is it and how many credits is it worth?
Normally it's a two-year long course for a full-time student or four-to-five as a part-time study.
Similarly to a PhD, an MPhil doesn't have a credit value as they are not made up of individually assessed modules or units.
Which career path can an MPhil steer you towards?
Unfortunately, there is no definitive answer to which career path an MPhil can steer you towards. In fact, it is solely based on what you decide to pick.
If you pick a technology-based thesis, you could theoretically steer towards engineering, product management or a scientist. If you base it upon a historical event, it could lead you towards a teaching career, politics or even as a museum curator and historian.
Despite this, you can get a role in a similar field to your chosen subject. It's recommended to pick your subject carefully as it could impact the field you would like to progress to.
If you don't have a specific role in mind, there are universal roles which look for skills in researching and writing. These include;
Advertising
Analysts
Creative Writing
Economist
Editorial
Journalism
Public Relations
Whichever role you decide to progress to with an MPhil, remember the training and materials you have learned during your course. If you are unsure which Master's is right for you, click the image below to find where other Master's can lead you.
---