What Can You Do With A Master of Clinical Dentistry Degree (MClinDent)?
If you're a professional in the dental industry, you may wish to consider an MClinDent degree to help further your expertise and career prospects within the industry.
For more information about which career paths can other Master's degrees can lead you towards, click the image below.
Below are simple overviews of the MClinDent qualification and which career path it can lead you towards.
What is an MClinDent?
MClinDent stands for Master of Clinical Dentistry and it's a postgraduate qualification for those looking to improve their knowledge and skillset in addition to branching into a specific sector within the dental industry.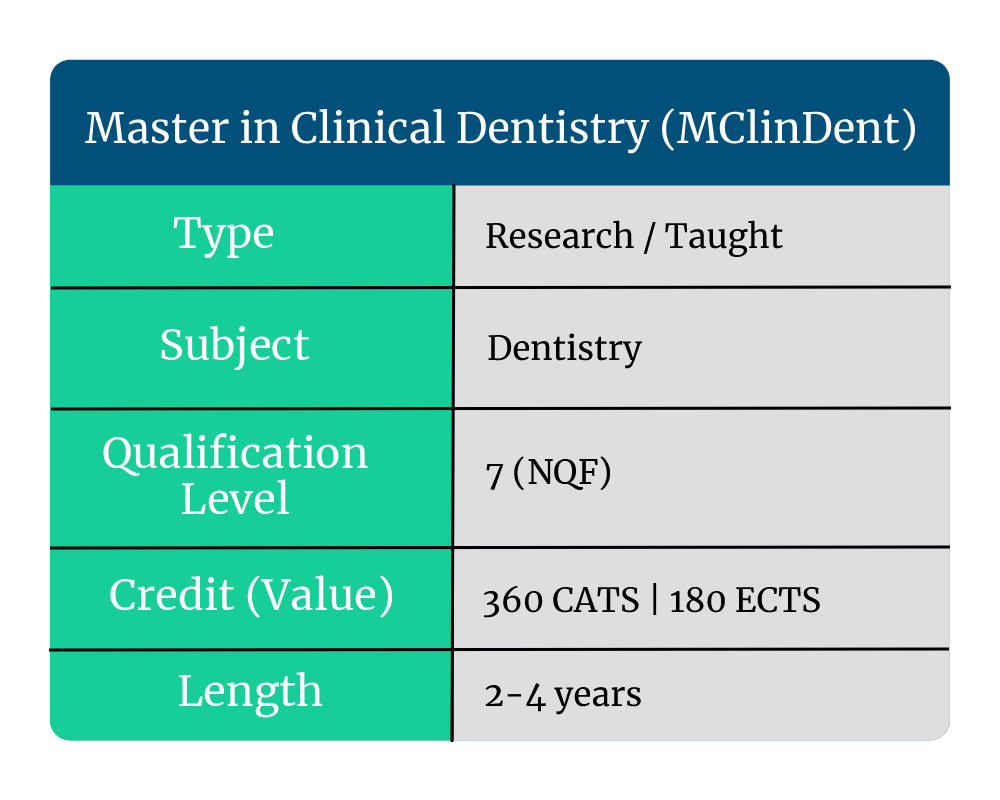 Typically, an MClinDent is a highly research-based qualification, but some courses have a mixture of taught courses too. As a research degree, you will be expected to complete this within the designated term time and your in own time – so you should ensure the university has a member of staff to help supervise you.
Entry requirements
In order to study an MClinDent, you will require to have a Bachelor of Dental Surgery (BDS) qualification in addition to a minimum of 3 years of experience practising in a clinical capacity within your chosen field.
In minimal cases, you may be accepted if you have less than 3 years but you may require to show an exceptional degree of aspiration, amazing grades and a high-tier application form.
How long is it and how many credits is it worth?
The length of the degree depends on the course and the university. Most MClinDent lasts between 2 to 3 years but you can find others which last up to 4 years. For part-time, you can expect to add an additional one or two years.
The degree is worth 360 CATS or 180 ECTS, and the breakdown in credit can differ from course to course with the dissertation worth the most overall credits.
Which career path can it steer you towards?
If you are looking to complete an MClinDent, you will typically look to continue the same career path within dentistry. But depending on the specific course you have chosen, you will be aiming to steer towards a specific branch within dentistry such as:
Dental Hygienists
General Dentist
Oral and Maxillofacial Surgeon
Orthodontist
Periodontist
Prosthodontics
---