What Can You Do With A Master of Letters (MLitt) Degree?
If you're considering a Master's in Scotland or an old university in England, your degree may be a Master of Letters (MLitt). MLitt can be a taught or research program and for many universities replaces the Master of Arts (MA) or Master of Philosophy (MPhil) in their qualification structure.
For more information about which career paths can other Master's degrees can lead you towards, click the image below.
Below are some simple overviews of the MLitt qualification and which career path it can lead you towards.
What is an MLitt?
It stands for Magister Litterarum, Latin for Master of Letters. It is a specialised Master's degree usually awarded in History, Literature, Law, Theology and related Art and Humanities subjects,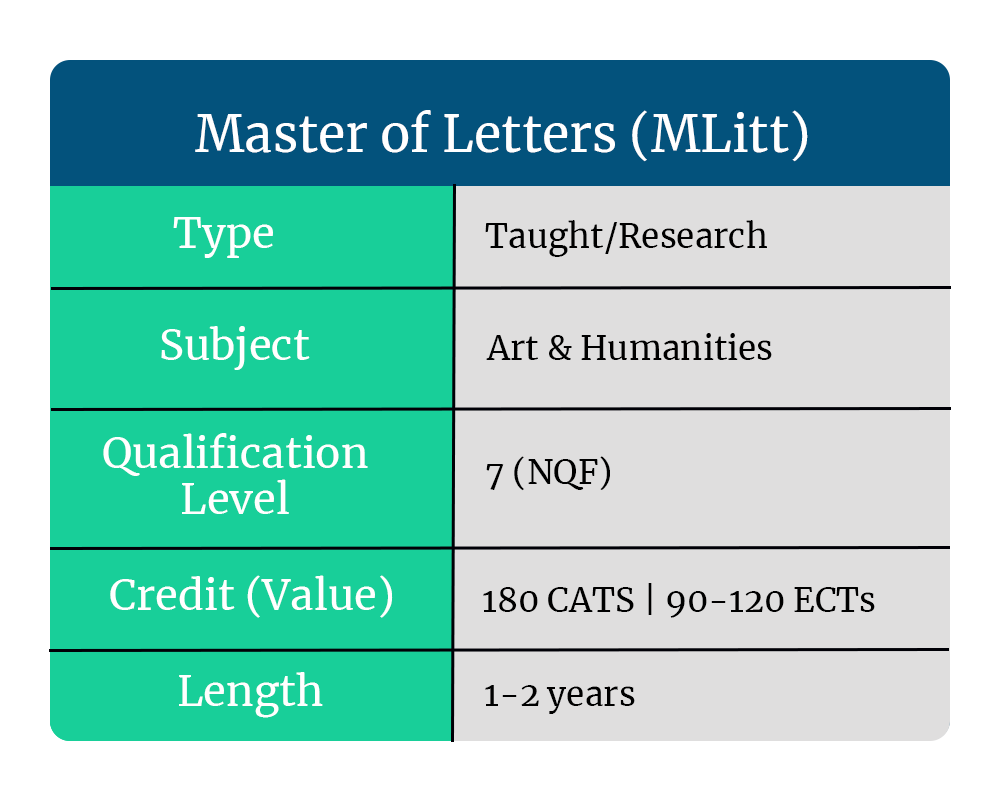 MLitt originated in the ancient universities of England and Scotland. These universities often award an MA as an integrated four-year undergraduate degree or as an automatic degree to BA graduates.
MLitt is common in the UK, mainly within England and Scotland. Outside of the UK, there are very few universities which offer it, such as Australia and the USA, which offer specialised degrees beyond the level of a Master's. These may be an advanced Master's (or replace existing Master's) or sit below a PhD similar to a Master of Philosophy (MPhil).
In the UK, MLitt is a level 7 qualification under the National Qualification Framework (NQF).
Entry requirements
The entry requirements for an MLitt are similar to other Master's degrees – you'll need a Bachelor's in a relevant subject. But if you are applying for a research-based MLitt, you may need to include a research proposal outlining your project.
It is a degree that's not a chosen option. It's normally offered by universities in place of an equivalent Master's. Some examples are taught MA in Scotland, or a shorter MPhil research project in England. Either way, an MLitt is a recognised qualification within the international higher education system.
Which subjects award an MSc?
As the name suggests, the degree is associated with the study of letters, or in this case, words. MLitt is more common within courses similar to Literature where the degree is used in place of an MA. It also covers subject areas such as:
Creative Writing
History
Geography
Languages
Law
Literature
Marketing
Philosophy
Politics
How long is it and how many credits is it worth?
In Scotland, the MLitt is usually a one-year taught course similar to an MA. However, in England, it's typically a two-year research programme similar to an MRes or MPhil.
Both versions are essentially similar but the major difference is the dissertation.
Taught base includes a 15-20,000 word dissertation – this is marked externally and moderated but has nothing to do with oral communication.
The research base includes a 50-60,000 word dissertation project. Comparatively, this is between a typical dissertation for a Master's and a PhD from courses at Oxbridge.
Both versions are worth 180 credits, with the dissertation worth 60 credits.
Which career path can an MSc steer you towards?
As MLitts are awarded to subjects in the Arts and Humanities subject groups, you should expect the degree to steer you towards roles such as;
Advertising
Editor
Historian
Law
Linguistic
Management
Teacher
Translator
Writer
Whichever role you decide to progress to with an MLitt, remember the training and materials you have learned during your course. Nevertheless, if you are unsure which Master's is right for you, click the image below to find where other Master's can lead you.
---