What Can You Do With A Master in Management (MiM) Degree?
A Master's in Management (MiM) offers excellent skills and knowledge to become a successful business leader. Unlike an MBA, MiM is aimed at recent graduates. The course is designed to rapidly develop the skills sought after by big companies.
For more information about which career paths can other Master's degrees can lead you towards, click the image below.
Below are some simple overviews of the MiM qualification and which career path it can lead you towards.
What is a MiM?
A Master's in Management gives graduates an opportunity to form and improve the professional skills they need to become excellent business leaders. Covering a broad range of topics such as economics, accounting, organisation and leadership, these courses aim to help you excel in business.
MiM is a year-long course with an intensive programme. MiM's started in the late 1980s, and in recent years have become more and more popular around the world. This is because it's a cheaper alternative to an MBA as well as a fast entry route into employment.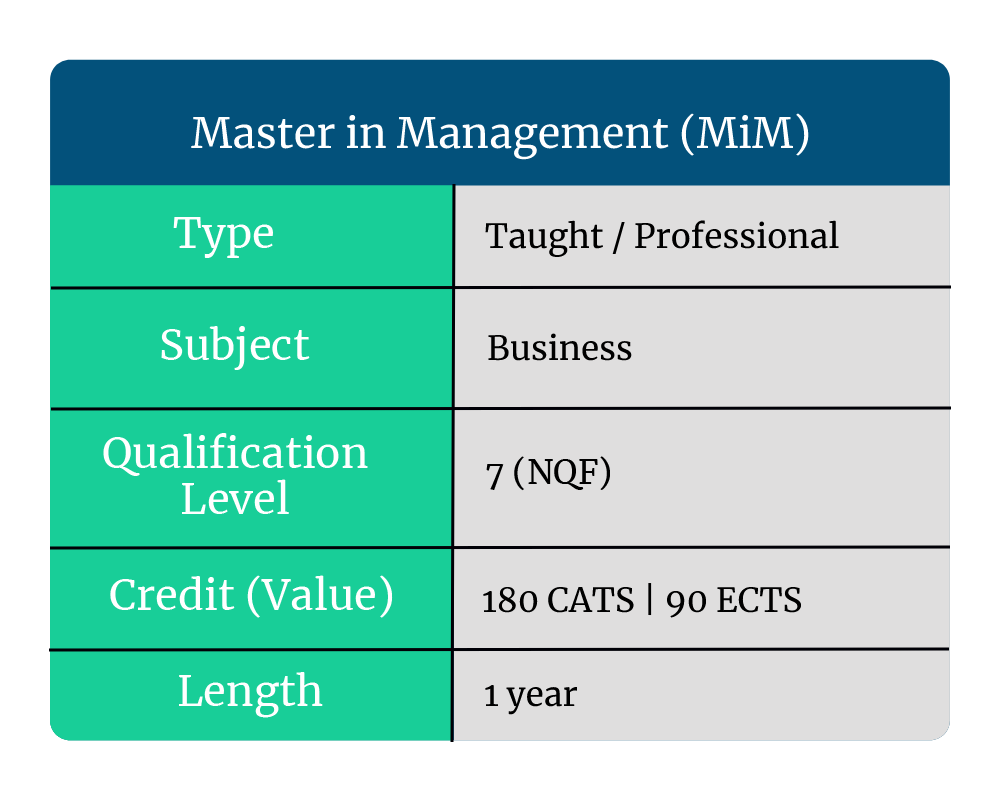 Entry requirements
Typically, you will require a 2.1 at an undergrad level, but you don't need a relevant degree, even if you completed an art or science degree. However, despite your undergraduate degree, you'll still need to prove you're a highly numerate and business-savvy individual.
As MiMs are open to all graduates, providers tend to suggest candidates complete the Graduate Management Admissions Test (GMAT) to boost their application. The GMAT is designed to measure quantitative, analytical and reasoning skills.
You will also need to be a recent graduate (graduated in the last few years). MiMs are not aimed at people with years of experience but instead aimed that those who want to kick-start their careers.
What's the difference between MiM, MBA and MSc Management?
Other than the main difference being how recent of a graduate you are, there isn't much to differentiate between the two. MiM is a much cheaper option compared to an MBA, which the latter costs on average at least 4x higher. But the biggest difference is MiMs tend to have a more theoretical focus, using analytical modules and case studies to develop a student's commercial skills. While MBAs concentrate on the practical application of theory.
But MiMs and MSc Management follow the same broad curriculum and course structure. In broader terms, they are equivalent qualifications.
How long is it and how many credits is it worth?
In the UK, a MiM is a year-long intensive course while in other countries, it could follow a similar length or double to two years, similar to other Master's degrees.
In the UK, they are worth 180 credits and 90 ECTs in the Bologna process.
Which career path can a MiM steer you towards?
Once graduated and gained valuable experience, MiM graduates can look to work in a number of different management roles across various industries. As such, you should expect to look at roles including:
Business Development Manager
HR Manager
General Operation Manager
Marketing Manager
Project Manager
Sales Manager
Whichever role you decide to progress to with a MiM, remember the training and materials you have learned during your course. If you are unsure which Master's is right for you, click the image below to find where other Master's can lead you.
At Lendwise, we understand the importance of an MiM. It can help you advance your career, earn a higher salary, and achieve your professional goals. But we also know they can be expensive.
We also understand that everyone's journey is different. Whether you're applying for a part-time or full-time MiM, the loan can help you achieve your goals. When you're ready, you can *apply online. We'll help get on the path to success.
*Credit is subject to status and loan approval is not guaranteed. Over 18's only. T&Cs apply.
---