The Good Guide To The Innovative Finance ISA (IFISA)
At a time when record-high inflation is eating away at cash interest rates and stock market returns are on (or even below) the floor, investors are looking for smart places to put their cash. Aside from Cash ISAs and Stocks and Shares ISAs, there is a less well-known kid on the ISA block that's gaining in popularity – the Innovative Finance ISA (or IFISA for short).
According to HMRC, 16,000 new IFISA accounts were opened between April 2021 and April 2022, bringing the total to 142,000 since its launch in 2016. The total invested in IFISAs is predicted to hit £3 billion by the end of the 2022-23 tax year. 
Like the other ISAs, the IFISA is a type of tax-free savings wrapper. The money you put into one counts towards your overall annual ISA allowance of £20,000 a year.
Whether you're brand new to investing or an experienced hand, a FREE guide created by Good With Money aims to help you navigate the IFISA. It includes a step-by-step flowchart (below) to help investors decide whether an IFISA is right for them, all while fully understanding the risks involved.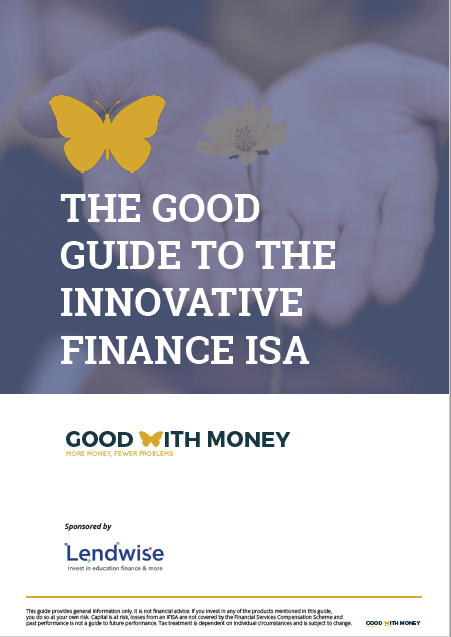 Investing directly in businesses, projects or individuals
The returns from an IFISA are not like the interest you can get on a cash savings account, nor are they like growth from share prices. Instead, the investments within them are direct loans to businesses, projects or individuals.
If you invest in an IFISA, you are lending money in exchange for an expected (but not guaranteed) return. In general, these loans are riskier than savings accounts, but not usually as risky as investing in individual company shares. The risks are that your capital could be lost altogether, or you may not get back the target returns.
It's important to note that IFISAs are classed as investments rather than savings. But the risk levels within IFISA investments vary from project to project and business to business.
Some IFISA opportunities offer relatively stable long-term returns. Others offer higher percentage target returns over a shorter term but with more risk.
Perhaps it is this variety within the IFISA wrapper that continues to confuse – but this is also the beauty of the IFISA. They are a rainbow product – not at all black and white.
It does mean you need to do your research on each individual offer, though, as they will all have different characteristics. If you would like to see some more variety in your investments they could be for you.
The new guide by Good With Money, Good Guide to the Innovative Finance ISA, in partnership with education finance specialist Lendwise, will tell you what you need to know.